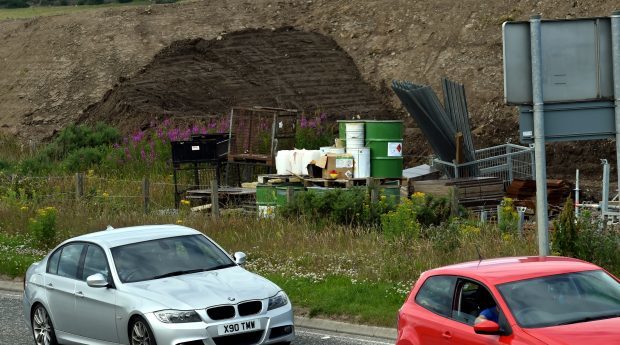 A safety review has been ordered after drums of highly-flammable chemicals were piled up beside a public road near Aberdeen airport.
Aberdeen bypass workers raised the alarm after spotting the waterproofing materials within yards of the traffic on Dyce Drive.
Transport Scotland said it had been assured by the contractor that the breach on the AWPR site had not posed any risk to the public.
But urgent improvements were put in place and a "full" probe begun after the Health and Safety Executive was informed.
The green drums contained the components of a waterproofing system for concrete bridges, such as those on the AWPR.
Guidance for the product says they should "stored in cool, dry protected conditions out of direct sunlight".
One construction worker claimed it showed a "shocking attitude" to the COSHH regulations (Control of Substances Hazardous to Health).
Transport Scotland said the containers had been stored in compliance with the rules but were then moved by a sub-contractor.
A spokesman said: "Any breach of site health and safety practice is unacceptable and, although the contractor has provided assurances that there has been no risk to public safety in this instance, strict compliance with health and safety procedures is critical.
"The safety of the local community and the workforce is of the utmost importance to Transport Scotland and measures will be implemented immediately to augment site health and safety procedures to ensure that there are no further incidents of this nature".
Arrangements for the chemicals to be moved to a safe area were said to have been made "promptly" by Aberdeen Roads Limited.
A spokesman for the HSE said: We have been reassured that the primary contractor who have responsibility for that area is aware of it and trying to address the issue."
The risks posed by the breach are also being looked at by the Scottish Environment Protection Agency (Sepa).
"Sepa officers have been in contact with the AWPR's environmental team in order to understand the exact nature of the material stored near Dyce Drive and what measures are currently in place to prevent impacts on the local environment, should an accident occur," a spokesman said.