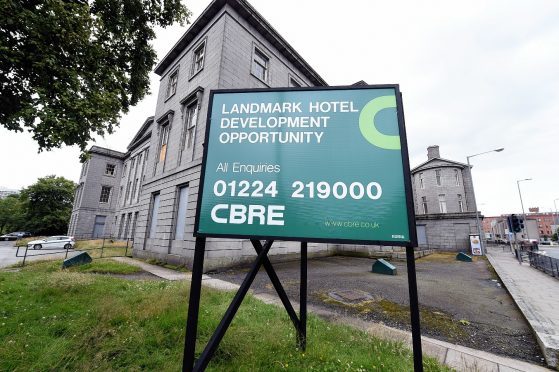 The man behind ambitious plans to convert Aberdeen's most historic hospital into a "boutique" hotel believes the scheme could move forward in the next month.
Developer Charlie Ferrari wants to build a 52-bedroom venue along with around 40 homes on the site of the A-listed Woolmanhill Hospital.
The latter closed its doors for the final time in April after serving the city for nearly 270 years.
Mr Ferrari said he was hopeful the application would pass the final planning hurdle soon and hoped to start work on the site next Easter.
But he added that, given the oil and gas downturn, along with political uncertainty over the likes of Brexit and a second independence referendum, it was important for developers to "talk up" the city.
He added: "We are still going through the planning process for the Grade A-listed 52 bedroom design hotel which will be the first hotel to have a 375-plus seater function room in the heart of the city centre.
"Once planning has been granted, hopefully by the end of this month, the next step will the legal process plus application for an hotel license which will hopefully be approved by yearend.
"At this time we are looking for an Hotel operator.
"What we have to do as developers in the City in general is keep talking the positives up."
Councillor Martin Greig said that the council "couldn't wash its hands of responsibility" for the A-listed buildings.
He said: "The masterplan is an ambitious vision for our city centre.
"The council needs to remain in control to supervise any changes to Woolmanhill- we cannot simply wash our hands of any responsibility for the future of the Woolmanhill site.
"This is an important group of buildings so any decision has to be taken very seriously.
"There are historical spaces and features which desperately need to be protected.
"There have been many new hotels and residential developments approved in recent years so the case for a new hotel would have to be strong. It is hard to believe that another hotel is viable."