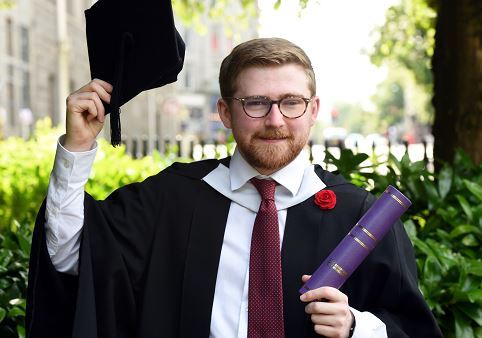 An Aberdeen student who "unexpectedly" stood for election twice during his course has not ruled out trying for a third time.
Aspiring politician Barry Black, 22, believes the academic freedom his course afforded him went a long way to securing his first class honours degree in applied social sciences from the Robert Gordon University (RGU).
Graduating alongside his classmates, the former St Machar Academy pupil chose to study at RGU as the breadth of disciplines available on the degree appealed to him at a time when his prospects were at a crossroads.
Mr Black said: "When I was at school, I really enjoyed history and modern studies and was encouraged by my family and teachers to pursue these fields at university.
"Though I wasn't sure what I wanted to do post-university, what really appealed to me about the applied social sciences degree and the way RGU's academic staff approach it is the sheer variety of topics it covers.
"It allows people like me who are keeping their options open to gain a real bedrock of experience and skills which can then be taken further."
Not only did his early years at RGU give Mr Black a breadth of knowledge, but it also gave him the freedom to tailor his studies and research into areas that piqued his interest.
He said: "I was given the chance to conduct my own independent research into real life situations.
"For example, my dissertation was based on examining health inequality in India, which allowed me to combine my most stimulating academic topic with a country I found fascinating after volunteering there for a summer between first and second year."
And while juggling his studies, Mr Black became active in politics and ran as a Labour candidate for West Aberdeenshire and Kincardine in both the 2015 and 2017 general elections.
Having increased his share of the vote and completing his degree, he is looking forward to further exciting challenges in the future.
He said: "I certainly didn't expect to stand in an election while at university – let alone two – and I'll remain heavily active going forward. I am also set to start a masters in sociology and research methods in Glasgow, so I can continue to develop my academic strengths."