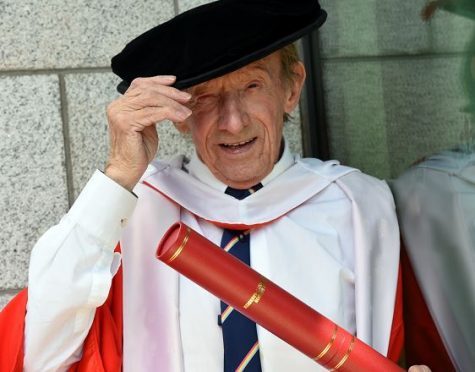 Scottish football legend, Denis Law, received his honorary degree from Robert Gordon University in a ceremony at HMT yesterday as the sun shone on Aberdeen.
And it was appropriate that the degree in question was law.
Hundreds of graduates donned their gowns in the packed theatre as they bade a triumphant farewell to university life and watched Principal Professor, Ferdinand von Prondzynski, pay homage to the newly-bestowed 'Law Man'.
Proudly accepting his doctorate, Mr Law joked that "whoever gives out these awards must have magnificent memories" – as he referred to his career achievements from the 1960s and 1970s.
However, on introducing the former Scotland and Manchester United star, sports journalist Graham Hunter called him one of the "all-time world elites" and urged the gathered graduates to follow his example of "style, determination and ambition", adding: "Do it like the Law Man."
Denis Law CBE was born in Aberdeen and rose from humble beginnings to become one of the greatest footballers the world has ever seen.
His prolific playing career began in the Swinging Sixties, and saw him strapping on his boots for Manchester United, Torino and Manchester City, among others.
Last night, Mr Law looked back to when he first left Aberdeen and recalled: "I did qualify for university back then, but unfortunately they didn't have a football team – they only had cricket or rugby.
"I thought – well that's not for me.
"Thankfully I moved to London and became a football player."
He is best known for the 11 years that he spent playing for Manchester United, where his flair, spirit and genuine passion for the game made him a hero of a generation and he revelled in the nickname The King.
A goal-scoring genius, he scored 237 goals in 404 appearances during his reign at Old Trafford.
These days, he visits Aberdeen more rarely than he would like, but he said: "Strangely, every time I do come up – it is always nice weather."
Mr Law is still the only Scottish football player to have won the prestigious FIFA Ballon d'Or Player of the Year Award and, in the 2016 Honours List, he was appointed a CBE for services to football and charity.
Mentioning that he recently spent some time recovering from a period of ill health, Mr Law said: "I feel better. I have found out what the problem was a year ago – but the doctors hadn't confirmed it until now.
"The word is knackered."
He is due to receive the freedom of the city of Aberdeen later this year.