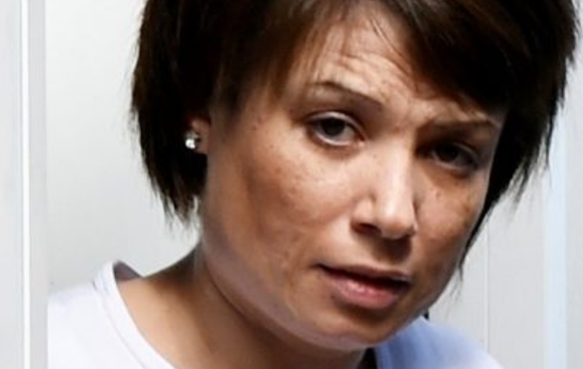 A serial north-east fraudster has been locked up for five years after she duped more than a dozen pensioners out of tens of thousands of pounds.
Cheryl Mitchell had been on trial at Aberdeen Sheriff Court over the last three weeks accused of duping vulnerable adults out of cash by posing as council workers and police officers.
Mitchell denied stealing more than £60,000 during a three month crime spree last year and claimed her victims had concocted a web of lies to get her into trouble.
"She knew exactly what she was doing"… Police welcome Cheryl Mitchell's conviction
However a jury took less than one hour yesterday to find her unanimously guilty of 18 fraud charges. They found one other charge to be not proven.
Mitchell wept in the dock as the verdict was delivered and a five year sentence was passed down – the highest that could be imposed by a sheriff in Scotland.
Sheriff Alison Stirling said the evidence against Mitchell had been "overwhelming" and said she "should have pleaded guilty" rather than force the people she preyed upon to give evidence.
And last night one of her victims said the case should have been referred to the High Court so a lengthier sentence could have been imposed.
Sheriff Stirling said: "You have been convicted of 18 charges. From charge eight on, these were dark and despicable crimes against vulnerable people.
"Charge three was against an individual who thought he was in a relationship with you.
"The evidence against you was overwhelming and you should have pleaded guilty.
"You forced elderly and frail victims to come and give evidence, some of them had to be helped into the witness box.
"A lengthy custodial sentence is appropriate."
One person who fell victim to Mitchell's powers of deception was Victor Somers.
She conned him into believing they would go on holiday to Bulgaria and claimed she had bought him a car after asking him to hand over thousands in cash.
She also opened bank accounts in his name, spent the money and got the overdraft limit extended.
Mr Somers said last night: "I'm pleased she was found guilty of this charge.
North-east pensioner says he felt "sick" after claiming he was duped out of £5,000
"I have been worried about appearing in court over this last year, my family have been very stressed about it.
"It would have been better if she had pleaded guilty.
"I would have liked it to have been referred to the High Court so she could have got a longer sentence."
During the course of the trial the jurors heard how Mitchell posed as an employee of the Department of Work and Pensions (DWP), Aberdeen City Council and utility companies in order to gain the trust of pensioners before taking their money.
Another person who fell victim to her scams was Laurence Power, who was visited by her in his home in Broomhill Park in November last year when she claimed to be from the DWP.
She told him he had too much money in his account and said he had to make a withdrawal or be guilty of fraud when taking out his pension.
Mr Power told police after the incident: "I thought about saying that I don't believe her but I was worried she might get violent and I cannot defend myself."
She then took him to the Royal Bank of Scotland (RBS) branch in Queen's Cross where she told staff she was his daughter.
She claimed they had been unable to complete a transaction over the phone.
Mr Power withdrew £13,000 which Mitchell took as he struggled to put it in his pocket.
She later claimed to have put it in a new account before dropping him off at his home.
Mitchell was also found guilty of claiming more than £60,000 in benefits she was not entitled to.
Jurors heard she had fabricated the existence of twins in order to claim tax credits.
Two phone calls were played from her to the tax credit agency in Liverpool registering the birth of twins in September 2013 and December the following year.
The court heard the woman gave her name as Cheryl Susanne Mitchell, gave her national insurance number and passed a security question.
Mitchell would not even admit to being the woman who made the call.
The court also heard the National Register of Scotland had said there was no record of six of the youngsters Mitchell had claimed to be caring for.
Man claims ex partner bought him a car – then he discovered he was paying for it
The court heard yesterday that Mitchell, a compulsive liar, had committed numerous previous frauds over more than a decade and had made multiple attempts to delay the trial against her.
Speaking after the jurors reached their verdict, depute fiscal Alan Townsend revealed her lengthy criminal past.
He said: "In 2001 she was convicted of theft and fraud.
"In 2003 she was convicted of a number of frauds at Banff Sheriff Court.
"In 2006 she was convicted of 18 frauds or attempted frauds.
"In 2015 she was convicted of an offence under the Social Security Administration Act and was sentenced to 36 weeks imprisonment.
"That was for £10,500 of benefit fraud."
And Sheriff Alison Stirling went on to reveal to jurors why the trial had to be delayed on multiple occasions.
She said: "On the opening day of the trial the accused faked an illness and had to Aberdeen Royal Infirmary.
"She did the same thing yesterday which is why it was delayed."
However Mr Townsend opted not to take any action against Mitchell for perverting the course of justice and Sheriff Stirling did not punish her for contempt of court.