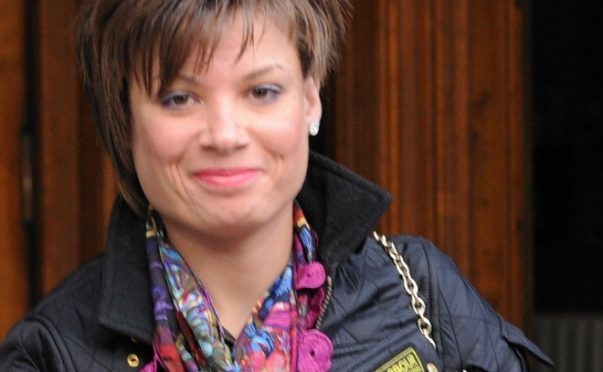 A north-east mum whose son was assaulted by a serial fraudster has spoken of her relief that she has been finally locked up.
Cheryl Mitchell was jailed for five years earlier this week after conning dozens of vulnerable adults out of more than £60,000 over a three-month period last year.
The 35-year-old – who has a string of previous convictions – was convicted of 18 charges after just an hour of deliberations by the jury.
North-east fraudster Cheryl Mitchell back behind bars after being found guilty of 18 charges
One previous offence includes driving her car at a Garioch schoolboy in 2011.
Last night, the boy's mother said she was relieved Mitchell, from Inverurie, had finally been locked up.
The woman, who did not want to be named, said her family's own ordeal had been a "nightmare" of physical and verbal abuse.
"It went on for years," she said. "At one stage, we wouldn't go out alone in case something happened. We had to go out in pairs so we had a witness.
"She would shout abuse at us as we walked through the street and swore at my daughter. She would threaten and gesture at my son and targeted a number of our older neighbours."
"She knew exactly what she was doing"… Police welcome Cheryl Mitchell's conviction
Things came to a head when Mitchell drove her silver Ford Kuga at the woman's son, causing him to fall from his bike.
Mitchell was later ordered to carry out 160 hours of community service for the act but only after a fractious trial where the sheriff branded her a fantasist following a number of missed court appearances.
"The kids were great," the boy's mother said. "They told the truth and said it exactly how it was but the whole process upset them both. Mitchell would miss an appearance and then she would stand in her garden, smile and wave at us.
"My youngest was about 11 at the time and she was in tears. I speak to them about it now and tell them Mitchell is back up in court and they don't want to know.
"She made a mockery of the courts."
During her three week trial at Aberdeen Sheriff Court for her most recent offences, the jury heard Mitchell had committed numerous frauds had again made multiple attempts to delay the trial against her.
Responding to the outcome, the boy's mother said she was disappointed with the five-year sentence and feared Mitchell could target others upon her release.
She added: "It's a relief because now people know what she is really like – but it's not enough. How could it possibly be enough after what she has done?
"I'm determined she won't impact our lives anymore. My son is going to university and he's happy and confident. My family is fine, we're strong and we're moving on with our lives."