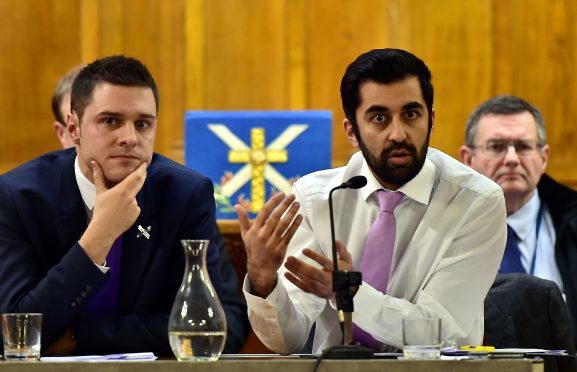 Scotland's transport minister has been accused of ignoring the concerns of hundreds of landowners who have faced months of misery due to the Aberdeen bypass works.
Humza Yousaf attended a public meeting in Aberdeen in February where he listened to farm owners who have been impacted by the ongoing AWPR construction.
They say he promised at the time to hold further discussions with any individuals who asked.
Landowners claims they are not being given fair deal for AWPR, which split their farm in two
But in the months since, Mr Yousaf has only met with single one landowner.
Transport Scotland insisted that it would be impossible for the minister to meet with everyone concerned.
His representative had met with several people in his place, they added.
But Angus and Caroline McNicoll, who are among those who have made repeated calls for a meeting, accused the government of "delaying tactics" over potential compensation claims.
And MEP Peter Chapman accused transport chiefs of treating those affected with "utter contempt".
The McNicolls, who own Blaikiewell Farm in Blairs, claim the new road will cut off a third of their land, which they lease out to a tenant farmer.
Mrs McNicoll said the couple were becoming increasingly despondent and losing hope they could maintain a viable farm, which has been in her family for 40 years.
"All these months later and Humza Yousaf still hasn't met with us," she said.
"I'm pretty sure it's just delaying tactics and I'm certain they're doing it to other people too.
"We now have a limited time to get more compensation, 18 months, and we have got no further forward since we first raised our concerns back in October, which was nearly a year ago.
"I have had so many promises from so many people at the AWPR that I am at the stage that I think they will say anything to get people off their backs."
The McNicolls claim they would require a bridge to get one from the west side of their farm to the east side once the road is up and running.
However, Mrs McNicoll claims they have been told by Mr Yousaf's managing agent, John Wilson, that as this was not part of the original plans this is something they would have to foot the bill for themselves.
North-east MSP Peter Chapman has previously been a vocal critic of the way transport bosses have dealt with landowners in the area.
He said: "I have said all along that the manner in which Transport Scotland has treated affected landowners has been abominable, they have been treated with utter contempt.
"Many of the concerns that have been raised are not necessarily signficant in and of themselves but they have failed to deal with them.
"Humza did promise that he would visit people, he promised he would visit Blaikiewell and he hasn't done it."
Transport Scotland said Mr Yousaf wrote to the McNicolls on June 30 and had not received a response.
The organisation also said it was unaware of a request for a new bridge.
A spokesman said: "Ministers and Transport Scotland welcome the opportunity to engage with communities and receive constructive feedback on the AWPR/B-T project. Mr Yousaf visited earlier this year, following in the footsteps of Economy Secretary Keith Brown, who has visited on many occasions, and is the lead minister for this project.
"Since then a series of actions and requests have been taken forward and we continue to engage and respond to reasonable feedback from the community.
"Indeed, ARL (Aberdeen Roads Ltd) has been liaising directly with landowners and residents to ensure that any impact as a result of the construction works is minimised.
"If any affected landowner has an issue regarding the impact of the AWPR/B-T on their land, ARL has a dedicated 24-hour helpline and e-mail enquiries mailbox."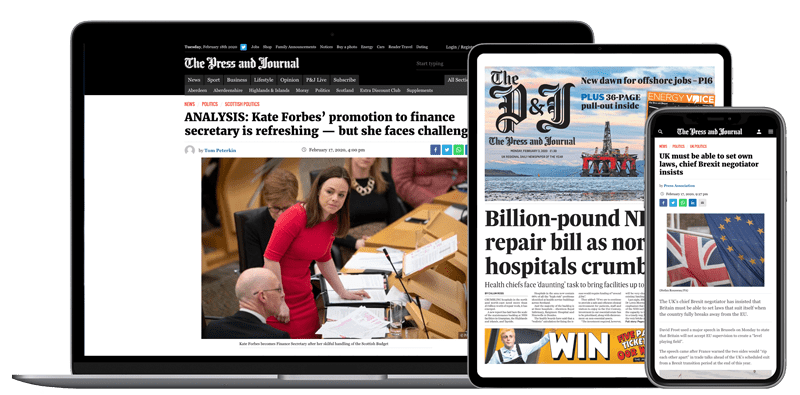 Help support quality local journalism … become a digital subscriber to The Press and Journal
For as little as £5.99 a month you can access all of our content, including Premium articles.
Subscribe