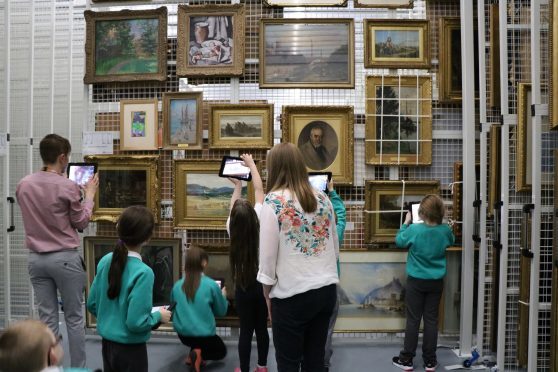 Calls have been made to better share Aberdeen's collection of fine art and historical artefacts with the community after it was revealed a £6.5million museum centre in the city was visited by just three people in one month.
The Aberdeen Treasure Hub on Granitehill Road, which opened in November 2016, was created to safely house the city's greatest riches and masterpieces while they are not on display in its galleries and museums.
But in addition to storage, the city council said a "key element" of the Northfield site was to show off around 200,000 cultural and historical assets with the public.
In its first month, it attracted 341 visitors as a series of events were held to mark the opening.
In January however that number had dropped to just three.
Only around 800 people have toured the facility altogether in the eight months it has been open.
A council spokeswoman said it was "not an open museum" and that there was "an element of managed access".
But critics said that fell far short of the original promise.
Councillors were told – in a report earlier this year explaining why the project went almost twice over its original budget – that "a key element of the building is public access and its location also provides an opportunity to take art into areas of regeneration".
Lib Dem councillor Martin Greig said: "Clearly there needs to be a rethink of marketing and raising awareness of the Treasure Hub.
"It's not just a storage space to dispose of and forget about valuable objects, it's supposed to be part of a living, breathing museum culture in the city."
Alex Nicoll, finance, policy and resource spokesman for the SNP group at Aberdeen City Council said: "It was a laudable goal, but build it and they will come is not an approach that we can afford to have as a council.
"We now need to have a good look at how we can get people along to the Treasure hub and make the best of it – there are some amazing works of art in here that deserve to be seen."
Works usually displayed at the city's art gallery are in storage at the facility while the project to overhaul the Schoolhill site continues.
A council spokesman said the Treasure Hub's "primary function" was storage.
It was designed "to make the collections more accessible for staff and researchers…but with the added advantage of a small class-sized space to allow schools and groups to visit".
"So there is an element of managed public access and we welcome visitors to the site on Wednesdays and Thursdays, and special open days that take place on three or four Saturdays throughout the year."