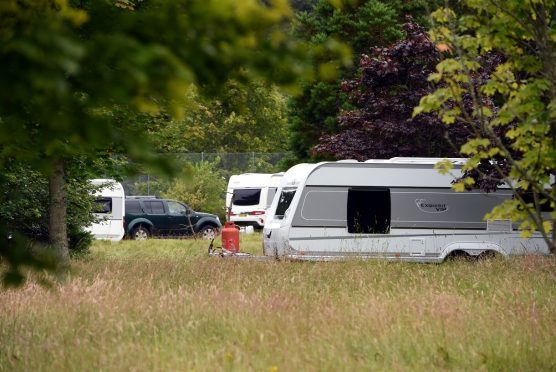 Angry mourners have slammed a traveller's camp which has pitched up just yards from a north-east crematorium.
A total of five caravans have settled in the area between Hazlehead Academy and the Aberdeen's crematorium leaving large sections of earth ripped up under the wheels of their vehicles.
Yesterday a police car was spotted in the car park of the facility with officers seen speaking to the travellers.
And last night a police spokeswoman said the call had been made in relation to an alleged theft.
The group arrived on Thursday and council officials quickly began a process to evict them by the start of next week.
But yesterday, grieving relatives visiting the crematorium said the close proximity of the camp was "disrespectful".
Recently another encampment was spotted across the road at Den of Maidencraig but they have since been moved.
A visibly upset woman, who did not want to be named, said: "I think it's a really disrespectful place for them to choose, I am here for the quiet and reflection and I can hear dogs barking and there is a police car here.
"I worry about people's mementos on the graves and even the flowers if there are dogs about.
"I find it really upsetting."
Another said: "I don't think it's right, I'm here to pay my respects and there is a lot of noise."
The latest encampment is smaller than previous ones in recent years.
In 2015, ten caravans set up base at Hazlehead park but moved on before the council was forced to take legal action.
Earlier this year, the Scottish Government ministers advised councils to launch an early-warning system to monitor and track illegal traveller sites.
Local authorities were told to keep watch over unauthorised encampments and share information about their movements to neighbouring regions.
Hazlehead councillor Martin Greig said: "It is disrespectful to camp up next to the cemetery and close to the crematorium.
"These should be peaceful and reflective places. This area deserves to be treated with dignity and care. It is unacceptable for anyone to think of stopping here to pitch up for even one night.
"It is well known that travellers come to our area for economic purposes.
"The potential to make money from residents on a tax free basis is the reason for their presence here.
"The incentive to come to our area would drop if local people stopped buying services from travellers. It would help if residents only used reputable companies and preferably local tradesmen."
Aberdeen South MP Ross Thomson called for an Aberdeen-specific bylaw, touted previously under the last council administration, to be put in place.
He said: "I think it's little more than a disgrace, it's mindless and insensitive that they have chosen a location right next to the crematorium. This illegal encampment shows a total lack of respect.
"I think this really highlights the need for a local bylaw so the city council and the police have more powers to move on these camps in specific areas. It is a shame that the Scottish Government rejected it when we put it forward."
But SNP Hazlehead councillor John Cooke dismissed the calls for a bye-law as "complete nonsense".
He said: "I think Ross Thomson is playing politics with this issue.
"The council already has powers to move on travellers and to introduce laws that would apply to Aberdeen but not Fife or Argyle and Bute is a complete red herring."
An Aberdeen City Council spokesman said: "We are aware of an unauthorised encampment on Old Skene Road at Hazlehead.
"A Notice to Quit was served yesterday, giving the group until noon on Monday to move on."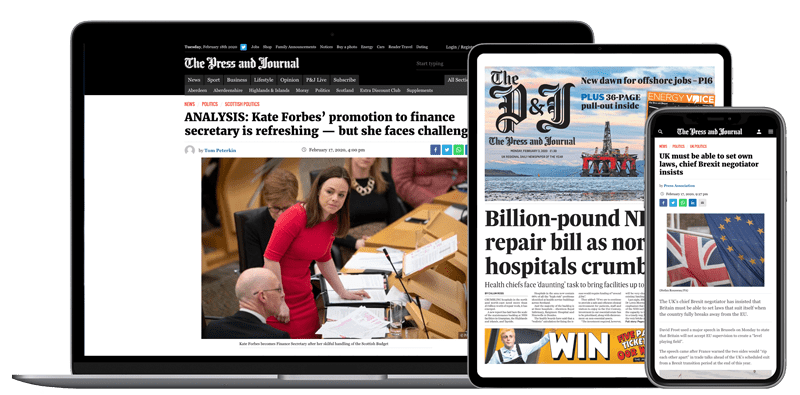 Help support quality local journalism … become a digital subscriber to The Press and Journal
For as little as £5.99 a month you can access all of our content, including Premium articles.
Subscribe