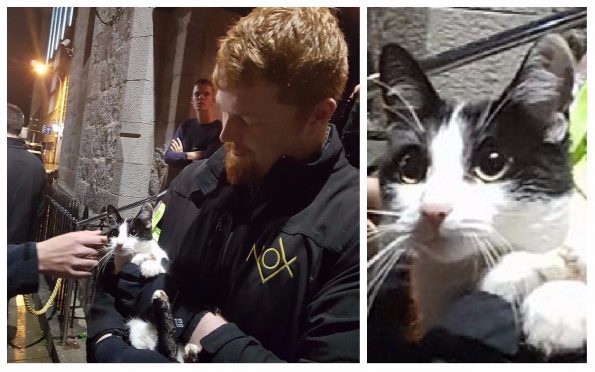 A party animal, who didn't pussyfoot about in trying to sneak into an Aberdeen nightclub, has been rescued by a kindly bouncer.
Lewis Thomson, security manager at Nox on Justice Mill Lane, spotted the stray cat at around 11pm outside the venue on Thursday.
After growing concerned she didn't seem to be used to the outdoors, Mr Thomson attempted to pick her up and prevent her from being hit by passing motorists, or targeted by drunken revellers – but the little ball of fur evaded capture.
And the following night, the cat appeared once more to try her luck at sneaking past security.
However, Mr Thomson and his colleagues couldn't find the pet on the guest list, and when they saw a passer-by attempting to feed her some take-away, the bouncer took the cat into the office for her own safety.
Mr Thomson, 25, said: "People kept chasing her onto the road and trying to pick her up. She tried to sneak into Nox a few times, and almost made it into the club at 1.30am when we were full.
"She wasn't acting like a cat that had been outside before. Some girl picked her up, and another woman tried to feed her chips, so I took her and put her in the office.
"I took her home and fed her, as she'd obviously not eaten properly for ages."
Mr Thomson initially believed the cat to be a male, and gave it the nickname of Frederick in honour of the Holy Roman Emperor, Frederick Barbarossa – one of his favourite historical figures.
However, after a trip to the vets on Saturday, it was established that the cat was in fact a female, and its microchip said it belonged to an address in Kirriemuir.
But after the vets did some phoning around, it was discovered that the kitten belonged to a little girl on Fountainhall Road, in the west end of the Aberdeen, and that she had not been seen for around 10 days.
Last night, Mr Thomson took the cat – named Sunshine – back to her rightful owners.
He added: "Luckily, the vet managed to find her real owner. I'm away to drop her off before I go to work, it's going to be an emotional goodbye.
"I'm just happy that she's managed to find her way home."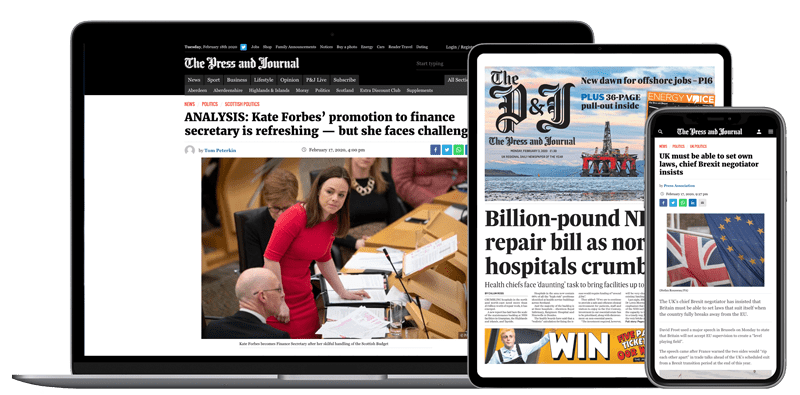 Help support quality local journalism … become a digital subscriber to The Press and Journal
For as little as £5.99 a month you can access all of our content, including Premium articles.
Subscribe