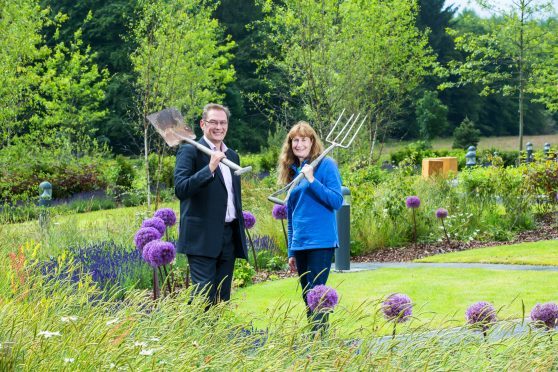 A north-east housing giant has urged communities to apply for funding for a new campaign which aims to spruce up neglected areas.
In a bid to improve outdoor spaces, Stewart Milne homes have launched their "Greener Spaces, Better Places" campaign.
Now community leaders have been urged to think of run-down, neglected or simply unused open spaces which would benefit from a green make-over.
Projects could include a local park which needs more grass or plants, the building of allotments or an open space which could be transformed from a concrete wasteland into a colourful, tranquil oasis.
And last night the scheme won the backing of  green-fingered star of the Beachgrove Garden Carole Baxter.
A judging panel comprising representatives from Stewart Milne Group, Fiona Weir of the RSPB and Ms Baxter from the Beechgrove Garden will select a short-list of three from all the entries in each region.
The public will then be able to vote for their favourite through social media and the result will be announced in September.
Stewart Milne Group chief executive Glenn Allison said: "Whether it's providing landscape gardeners to design and plant colourful flower beds, or tradespeople to build a walled garden or allotment or simply providing a little love and attention to existing green spaces, we will consider all types of projects which will benefit as many people as possible."
Stewart Milne Group may allocate direct funds towards the chosen projects or provide the materials and/or people to carry out the green make-over.
Beechgrove Garden's Carole Baxter added: "This is a fantastic opportunity and I would encourage communities to put forward ideas.
"Improving and increasing green outdoor spaces do make for much better places to live, not just because they look good and provide a focal point for a community but also because, through a spot of gardening, they can bring people together".
Fiona Weir, Programme Manager for RSPB's Giving Nature a Home, said: "There is a huge amount of wildlife that can be found in our cities and it is important that we design and enhance existing spaces for both people and wildlife to live together."
The deadline for submission of nomination forms – which are available at www.stewartmilnehomes.com/greener-spaces.aspx – is September 8.
Completed forms should be emailed to greenerspaces@bigpartnership.co.uk