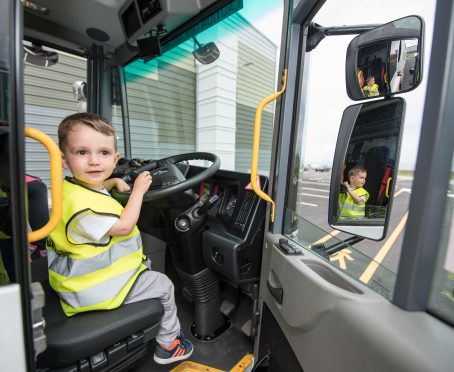 Many children today have dreams of becoming a police officer or firefighter while others yearn for the fame of playing football or singing pop songs.
But one Aberdeen boy has shunned the allure of fighting crime or scoring goals and taken a special tour of one of the city's bin lorries.
The council's waste services team made three-year-old Kai Milburn's summer when he got a special tour of refuse truck and a waste aware bus.
The Bridge of Don boy was presented with a special certificate for his 'honorary refuse collection training' and goodie bag including a mini wheelie bin.
Kai went for a ride in the 26-tonne vehicle along with his mum and his sister, seven-year-old Leah.
The toddler was also shown the control room and how the mechanism at the rear of a lorry picks up a bin and tips the waste into the back.
His mum, Jenni Bisset, got in touch with the council as she explained one of the highlights of his week is when the 'bucket man's lorry' arrives at their home.
She said: "For the last six months, Kai has had a somewhat odd obsession with recycling and waste disposal and nothing pleases him more than seeing the 'bucket man" come go collect our waste bins.
"He also insists on doing the recycling and opening all the buckets in every household we visit to ensure they have correctly segregated their waste – we can't walk past a wheelie bin on the street without Kai lighting up with excitement and we've even driven him through the council's local waste disposal sites in an effort to satisfy his favourite pastime.
"Most children would love to see a fire engine or a police car but for Kai, it's a real waste disposal lorry.
"It's been fantastic for Kai to get up close to one and even get a ride – we can't thank the staff enough."
Waste supervisor Malcolm Neil said: "It's wonderful that someone so young has been bitten by the recycling bug and of course if Kai still wants to be a 'bucket man' when he's older, he's more than welcome to come back and work for us."