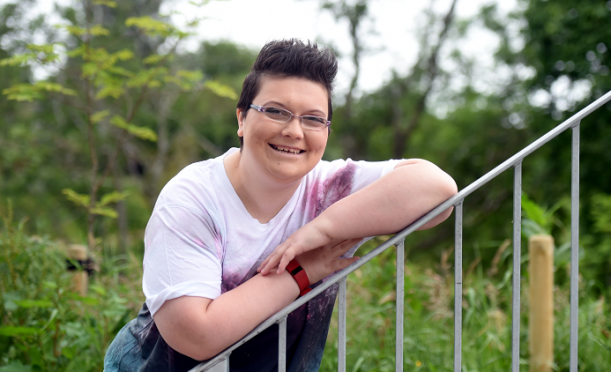 This time last year, Beverley Cumming was hard at work as a painter and decorator.
But within 12 hours, her life totally changed – after an emergency eye test revealed she had a brain tumour.
The 24-year-old had been suffering from headaches for years, with doctors telling her they were migraines possibly related to stress.
In August last year however, Miss Cumming began feeling tired, with her legs and arms heavy – so much so even her colleagues were teasing her about how she had slowed down at work.
She originally thought it was a viral infection, but when she got another painful headache on August 21 she decided to make an emergency appointment.
Opticians took a photograph of the back of her eye which revealed there was fluid putting pressure on her brain and she was rushed straight to Aberdeen Royal Infirmary for further tests, including a CT scan.
It revealed a tumour bigger than a golf ball on the left side of Miss Cumming's brain, which medics suspect may have been growing for 10 years – causing her headaches.
Miss Cumming, who lives in the Garthdee area of Aberdeen, said: "I got the surgery two weeks later, on September 6.
The doctor told me that everything would be fine, it could maybe affect my speech and mobility, but should probably be a benign tumour and everything would be fine. I had the surgery and it wasn't benign, it was a grade two tumour.
"I lost my speech and I couldn't walk. I was in a wheelchair until November or December.
"I had to go to physiotherapy to build up the strength in my leg. I'm right handed and it was the right hand side that was weak. I had to go and live with my grandma until January, she had to dress and feed me.
"It totally changed my life within 12 hours. I expected to go back to work on the Tuesday, but I've not been back full-time yet."
Miss Cumming has now been given the all-clear from occupational health to return to work part-time, and is relishing the idea of getting back to normality.
And despite the huge battle over the last 12 months, she is using her experience to help others – donating £700 to ARI's neurology ward in lieu of Christmas presents and £100 to Maggie's in recognition of their support to her mother, who lost her own battle with cancer several years ago.
She still has no feeling down her right-hand side but that did not stop her from completing Maggie's inaugural Culture Crawl earlier this month – finishing well ahead of the majority of the crowd.
Now she is gearing up for her next challenge tomorrow: a 60ft abseil down Royal Aberdeen Children's Hospital in aid of The Archie Foundation.
Miss Cumming said: "I'm really looking forward to it, and next year I'm going to do a skydive. I can't wait.
"The brain tumour has never really bothered me, I've never said 'why has this happened to me'. It's happened, I just have to deal with it, pick myself up and carry on."
To sponsor Miss Cumming, visit https://archie-abseil-2017.everydayhero.com/uk/bevv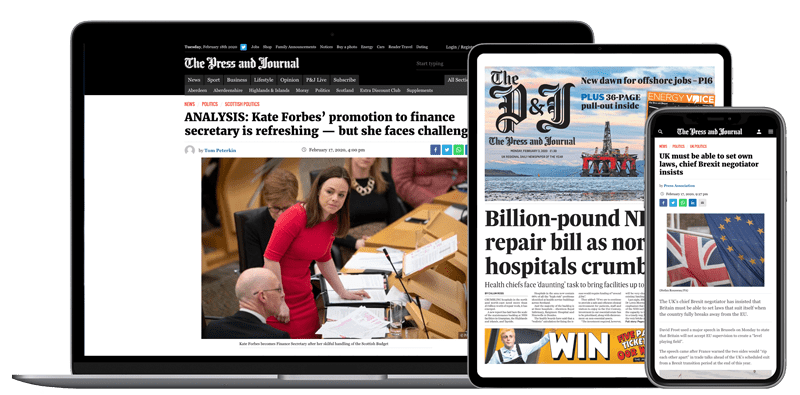 Help support quality local journalism … become a digital subscriber to The Press and Journal
For as little as £5.99 a month you can access all of our content, including Premium articles.
Subscribe