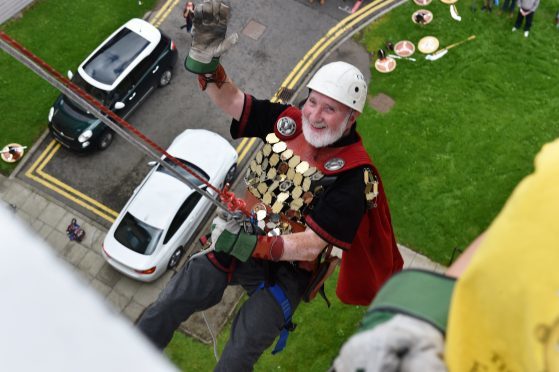 Thrill-seeking pensioners showed age is just a number when they took on a daring 60ft abseil down a hospital building for charity.
Ralph Skene, 76, and June Walker, 79, defied their years to scale their way down the Royal Aberdeen Children's Hospital for the Archie Foundation.
The septuagenarians were just two of 90 brave volunteers who have already helped raise more than £20,000.
The event has now raised £96,000 in three years, and it is hoped that once this year's total is fully tallied up, the £100,000 barrier will be broken.
In full Viking attire, retired painter and decorator Mr Skene made his way down the wall alongside granddaughter Orla, cheered on by family, friends and friends from Shetland.
It was not the first time he had come face to face with the heights of the building – helped paint the hospital when it opened 15 years ago.
And while she may be a mild-mannered hospital librarian by week, daredevil granny Mrs Walker took on the challenge despite recently having a hip replaced.
Between them, they have raised close to £5,000 for the charity.
Mr Skene, from the Abergeldie area of Aberdeen, said: "I saw the event last year and thought it was good so said I'd do it this year in my Viking gear.
"It brings a bit of colour to the event. My two granddaughters and my wife came down and they seemed to enjoy it.
"The instructors were really good. They gave me about 10 minutes of pre-training to get ready and there were no problems.
"It was well organised and the weather was beautiful."
He added: "The wife's saying enough is enough and I should have a rest."
Mrs Walker, of Edgehill Road, Aberdeen, reckons her husband Gordon will be in for quite the surprise when he opens today's P&J, as she kept her plans a secret.
She joked: "He'll be in for a shock, and I'll probably be in for a row but I'll weather the storm."
She added: "The Vikings were brilliant cheering everyone on. The two guys who were instructing us deserve fantastic praise because they were brilliant."
The retired teacher, who also goes to Swedish music exercise classes and boxing sessions every week, put her active lifestyle down to her nine-year-old grandchildren Sophia and Zander keeping her young.
She said: "They make me go on flumes at the water park and made me go on Thunder Mountain when we went to Disneyland. They always say 'Nan, you can do it!'"
Mrs Walker, who volunteers at the hospital library, said she was motivated to do the abseil for Archie after a colleague's grandson was treated for brain condition encephalitis.