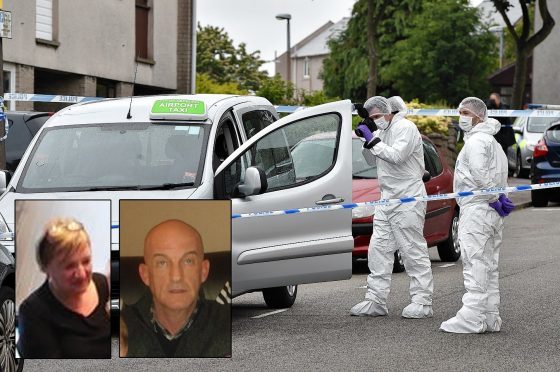 A couple who died in a murder suicide at their home were both found with multiple cuts – including to their necks.
The bodies of William and Karen Flett were discovered at the terraced house on Cornhill Terrace, Aberdeen, on July 5, sparking a large-scale investigation.
A cordon was set up around the property while forensics teams examined the scene. Police appealed to anyone who had seen anything unusual at the property to contact them.
Family of tragic Aberdeen couple "completely devastated" by loss
Detectives quickly declared it a "contained incident" and said they were not looking for anyone else in connection with the double death.
Details of the pair's injuries have now been revealed in their death certificates.
Taxi driver Mr Flett, 56, died from "sharp force injuries" to his neck, left wrist and hands, according to the report, signed off by pathologist Dr James Grieve.
The cause of death for Mrs Flett, a 57-year-old nursing home care assistant, was also given as "sharp force injuries" but in this instance to her trunk and her neck.
Neighbours said that members of the community will never erase what happened from their memories.
Keith Barnes, who lives around the corner from the couple's house, said: "People here will definitely never forget about it. You just don't forget something like that, do you?
"I do wonder if the area will ever recover."
Susan Watt, who lives opposite their family home, did not know Mr Flett very well, but had fond memories of Mrs Flett.
She said: "She was a lovely person. She was very much for her grandchildren. She would never pass you by, she always said hello.
"I remember seeing her putting her washing out with her music on or playing with her grandchildren. It's the little things you miss. I miss seeing her and I imagine other people do as well.
"I haven't seen anything in the house since it happened. I did see the lights on upstairs last week though. It's strange seeing it all boarded up."
At the time, the Flett family released a statement through the police to say that they were "completely devastated by our loss".
"As a family, we will help each other through this extremely difficult time," they said.