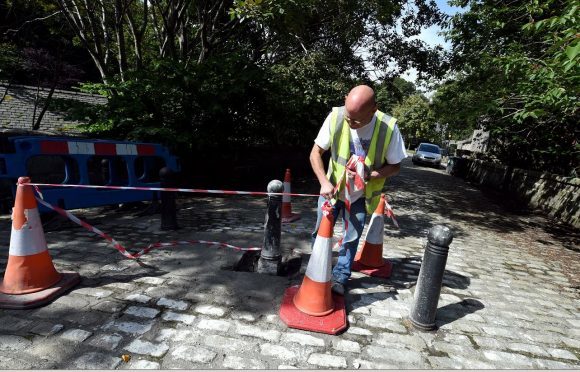 Bollards are being removed from a 14th century Aberdeen bridge ahead of a major running event.
The work is ongoing at the A-listed Brig O' Balgownie in Bridge of Don which thousands are expected to cross during next weekend's Great Aberdeen Run.
Council workers are inspecting the bridge to remove bollards embedded in the historic structure to make way for the runners.
Construction of the bridge was begun in the late 13th century by Richard Cementarius, although its completion was not until 1320 at the time of the Scottish War of Independence.
Local legend suggests that the structure was completed by Robert the Bruce.
It fell into disrepair in the mid 16th century and was extensively renovated in 1605.
The bridge is constructed of granite and sandstone. Its single gothic arch has a span of over 40ft and at low tide the apex of the arch lies over 55ft above the water-line.
The bridge ceased to be a major route in 1830 when the new Bridge of Don was built five hundred yards downstream.
A man living near to the bridge said: "If I want to change the colour of my door then I have to apply for planning permission- so why doesn't the council?
"This is an historic monument they are working with- you have to wonder if they are doing any damage to it."
But an Aberdeen City Council spokeswoman said that the works were "minor and temporary".
She said: "The works to remove the bollards on the Brig O' Balgownie are being undertaken in line with a methodology statement and programme of works as agreed with the council's conservation officers.
"The removal works do not require listed building consent as they are minor and temporary works to a non-original element of the bridge which will have no significant impact on the fabric of the listed bridge or its important historic or architectural value.
"The bollards will be repainted and, together with the existing setts surrounding them, will be reinstated following completion of the Great Aberdeen Run."