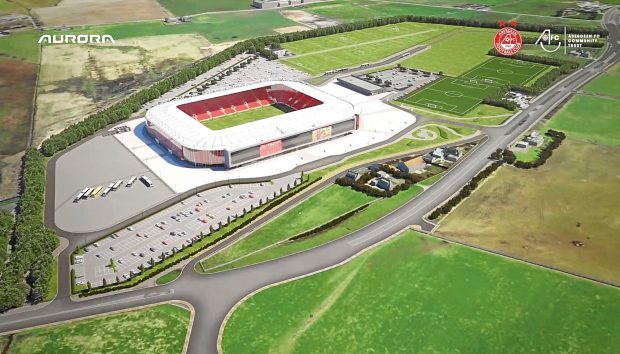 Opponents of Aberdeen FC's planned new stadium have attempted to hijack the campaign by snapping up web domain names in an attempt to divert unsuspecting fans to a protest site.
The No Kingsford Stadium group took the club by surprise with an online stunt that was dismissed by Dons vice-chairman George Yule as "small-minded nonsense".
The club this week launched the Aurora initiative to drum up the widest possible support for plans to create a 20,000-seat ground and accompanying training facilities at Kingsford.
VIDEO: Fly-through footage reveals what Aberdeen FC's new stadium could look like
Legendary former manager Sir Alex Ferguson was among big names to throw their weight behind the move amid warnings that staying at Pittodrie would be disastrous for the club's future.
The hashtag #AllForAurora was coined for fans to find out more and show their backing on social media.
But the protest group cheekily bought the domain names "www.allforaurora.com" and "www.allforaurora.co.uk" to help divert unsuspecting people to an anti-stadium page.
It contained a list of claims about rising ticket prices, long journey times and declining attendance figures.
The club had previously sought to avoid public hostilities with No Kingsford Stadium, which was set up by disgruntled Westhill residents upset about the impact of the £50million construction project.
But Mr Yule issued a strongly-worded response to the latest tactic.
"Given the huge success of our Aurora campaign, particularly on social media, we're not concerned about this type of small-minded nonsense," he said.
"However, what is a concern is the huge amount of completely inaccurate information on this site from a small group of people who are not accountable for anything they say to anyone, in the hope of misleading others. This is clearly a disruptive move by these people aimed at distracting focus, and we recognise it for what it is."
The group fired back, describing the Dons' rallying campaign as an attempt to "harass" elected representatives into backing the relocation scheme.
Councillors are due to examine the application at preliminary hearing on September 13, with a final decision to be made in October.
A statement from the group said: "It seems that the Aurora campaign is just like the stadium plans: not properly considered or planned.
"We purchased the domains to highlight this issue and spread the message of our campaign."
The group added: "Mr Yule's attack is directed towards the No Kinsgford Stadium campaign, however he seems to be conveniently forgetting that the stadium plans have resulted in concerns and objections from people across the north-east.
"Mr Yule states he 'is not concerned', however we would suggest the very fact Aberdeen FC has launched a campaign to harass local councillors and elected officials would indicate that Mr Yule is very concerned indeed that Aberdeen City Council is highly likely to refuse the Kingsford Stadium plans."
The Aurora drive, named after the latin word for "new dawn", was launched at Pittodrie on Tuesday.
Manager Derek McInnes said that the club would inevitably slip down the league table without training facilities of similar quality to their nearest competitors.
And chairman Stewart Milne and admitted that there was "no plan B" if the application was rejected.