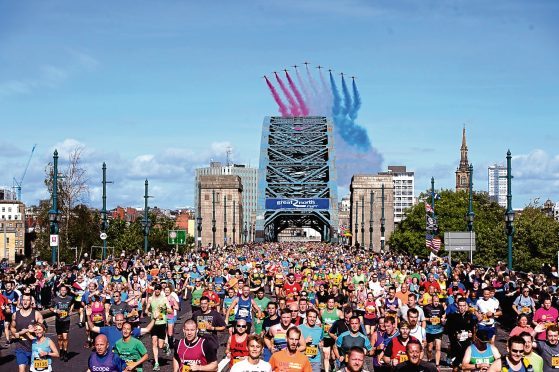 A major city centre road, which is undergoing a multimillion-pound pedestrianisation project, will be temporarily reopened this week for the inaugural Great Aberdeen Run.
But the news has provoked criticism of "poor planning" by council chiefs.
Work is under way to transform Broad Street into a civic area, which will be accessible only to bikes, buses and those on foot.
The road was closed to vehicles in March ahead of the redevelopment, which was due for completion in July.
However, that date was pushed back to November due to health and safety concerns, as well as other issues.
As part of the project, the nearby Upperkirkgate has also been shut to vehicles – but the road lies on the route of both the 10k and half marathon of Sunday's run, which is expected to attract thousands of visitors to the city.
This week, temporary road surfacing will be installed on the Upperkirkgate to allow those taking part in the event to enjoy the view of the iconic Marischal College on their tour of the city's most famous sites and landmarks.
No work will be carried out on the road while the surface is in place.
However, Lib Dem Group leader Ian Yuill said: "This shows some fairly poor planning by the council. The choice of route of the run should surely have taken into account that the work on Broad Street and Upperkirkgate could have been delayed.
"It seems that, with proper foresight, this problem, which is going to add to costs and further delay the completion of the works, could have been avoided."
Yvonne Allan, convener of the council's communities, housing and infrastructure committee, responded: "The Great Aberdeen Run will see thousands of people from across Aberdeen and beyond taking part in a fantastic event.
"Due to a combination of circumstances, the completion date for the works was delayed, and residents will remember that additional consultation was held around the works regarding the concerns of those with disabilities.
"The important matter is that there is as little disturbance to the Great Aberdeen Run as possible.
"This temporary surfacing will allow the event to go ahead and I'm sure it will be a great success." As soon as the race is completed, the surfacing will be removed.
An Aberdeen City Council spokesman said: "As planned, a temporary surface will be installed at the Upperkirkgate to allow the participants in the Great Aberdeen Run to complete the route safely."