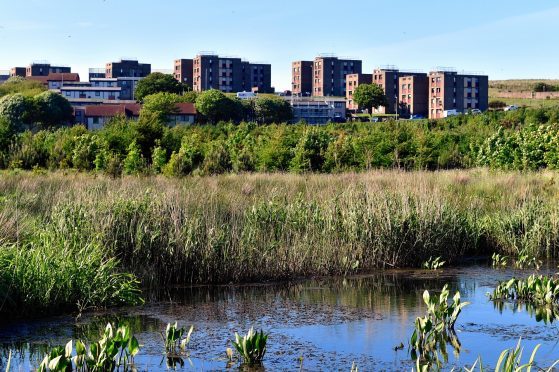 Environmental watchdogs have discovered sewage in a polluted Aberdeen waterway.
Community tensions have been growing in Torry after an outbreak of cyanobacteria at East Tullos burn which runs through St Fittick's Park.
The material is known to be harmful to skin and causes internal damage if ingested.
Residents complained of the strong smell from the burn and suspected there had been a sewage leak with some people reporting seeing human waste.
Yesterday, the Scottish Environmental Protection Agency (Sepa) revealed an inspection carried out on August 16 of the burn had definitely uncovered sewage.
Torry Community Council secretary David Fryer said the group felt "vindicated" by the outcome.
He added: "This is exactly what we have been saying since the start of this whole issue and the council have always denied it."
Torry and Ferryhill councillor Catriona MacKenzie continued: "Myself and councillor [Christian] Allard have been calling on Sepa to re-test the East Tullos burn all summer after numerous concerns from residents in Torry about the horrendous smells emitting from the water.
"This water should have been routinely tested since sewage was first found in the burn back in May, and not left for months with no proper sampling taken until August 16.
"It is disgraceful to expect people to live with such a hazardous open pool of water close by."
A Sepa spokeswoman said: "Due to historic problems of blue green algae outbreaks in the East Tullos Burn, Sepa has been carrying out regular water quality testing.
"The most recent results indicate a Scottish Water surface water outfall is contaminated by sewage.
"These results have been shared with our council partners and Scottish Water, who have started a survey of drains in the area to help pinpoint the source."
A spokesperson for Aberdeen City Council responded: "The council has been informed by Sepa that tests conducted on August 16 at East Tullos Burn detected sewage entering the burn from at least one Scottish Water surface water outfall. "Over the course of several months, Sepa has been monitoring water quality and the latest sample gave cause for further investigation.
"Although responsibility for monitoring and rectifying the issue falls with Sepa and Scottish Water, Aberdeen City Council is being kept fully informed as landowner. The health and wellbeing of residents and protection of the environment is our primary concern."