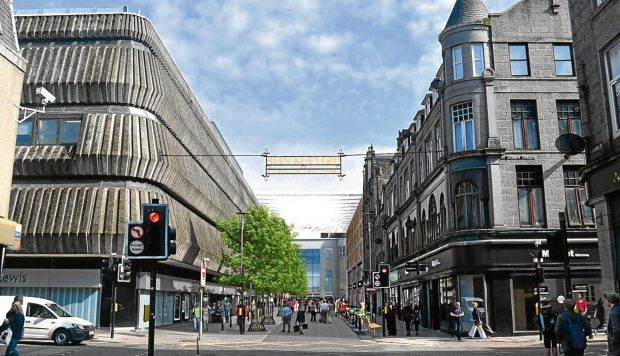 Ambitious plans to extend an Aberdeen shopping centre have taken a step forward.
The Bon Accord Centre expansion includes building a glass canopy out on George Street to create a new development made up of shops, hotels, housing and office space.
Images show how Aberdeen shopping centre could be transformed by major expansion
Last night, the councillors' decision to grant planning permission in principle was hailed as great news for the Granite City.
The plan, by centre owners BMO, includes a glazed canopy over the entrance on George Street and would result in the 123-year-old unlisted building at 41-43 Loch Street – a former soup kitchen – being demolished, removed or relocated.
The preferred option is to remove the building and relocate it on Loch Street closer to the Berry Street roundabout. Santander and Co-op buildings on George Street would also be demolished to make way for new shops and a hotel.
A new four or five-storey retail block has also been put forward, linking the Bon Accord Centre and John Lewis.
The expansion would mark a step forward for city centre shopping centres, which have previously united to oppose the out-of-town Blackdog development.
Adrian Watson, chief executive of city centre business body Aberdeen Inspired, welcomed the investment. He said: "We welcome the news that plans for the expansion of Bon Accord are gathering pace, as they will make a significant contribution to the masterplan, once implemented.
"The development proposals and significant investment will regenerate an important part of the city centre which will have a good knock-on effect in the heart of Aberdeen."
Andrew Martin, vice-chairman of the city and shire hoteliers association and director of the Scottish centre for tourism at RGU, said: "I think people see that to move the city forward and diversify the economy they need to embrace economic regeneration.
"What we want to avoid is an American-style out-of-town shopping centre culture."
A separate application for a £2.2million seven-screen cinema and leisure hub already has approval.
Yesterday, the latest phase of the project went before the planning committee after nine objections were received.
Concerns raised included the loss of streetscape, impact on smaller retailers in the area and the potential of loss of daylight.
But members of the planning committee unanimously gave the proposals planning permission in principle. A detailed planning application is expected later this year.
Chris Miller, associate planner at GVA, said on behalf of Aberdeen Shopping Centres Ltd: "The support received throughout the development of the proposals from the public, stakeholders and key organisations including the city centre masterplan team and Aberdeen Inspired was invaluable, and we would like to thank all those who got involved and backed the plans."
Planning convener Marie Boulton said: "For me a prime condition is preserving our heritage so I am so glad to hear the conditions for the soup kitchen."
Committee member Martin Greig added: "It is good to know that the developer listened to concerns about the fate of the historic building."