The Granite City glistened as the sun shone on thousands of people taking part in the first ever Great Aberdeen Run yesterday.
The usual calm of a Sunday morning on Union Street was shattered when participants in the 10k run set off at 9am, and throngs of excited supporters shouted encouragement.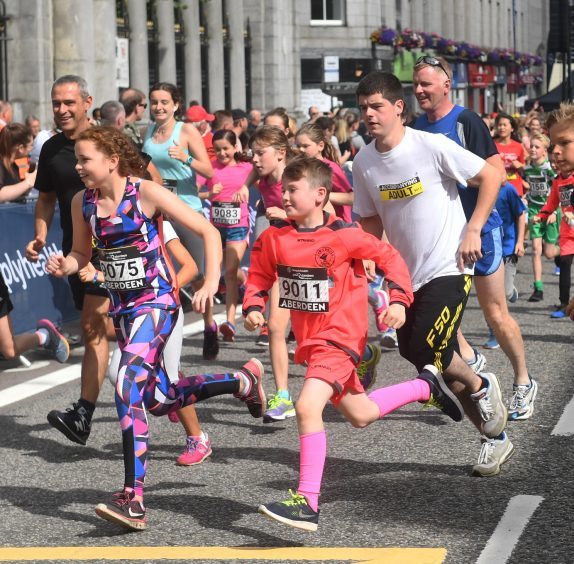 They were followed at 10.30am by those undertaking a half-marathon, which pushed athletes to their limit and inspired the creation of a new world record.
Overall, about 8,000 people took part – and at least double that number cheered them on from the sidelines.
The runners began by heading down Union Street and along the beach before looping back towards the centre and returning to the starting point via Albyn Place.
The route encompassed some of the city's most scenic areas, like King's College, Old Aberdeen and the Castlegate.
People of all ages gathered to watch the spectacle unfold, with the littlest observers sitting atop their parents' shoulders to get a better view.
Aberdeen swimmer Robbie Renwick, who won a silver medal for Team GB at the 2008 Beijing Olympics, sounded a klaxon to begin the half-marathon after completing the 10k himself.
He said: "I really enjoyed taking part, and it has encouraged me to do more running and I hope it will inspire others to do the same.
"I hope this keeps coming back to Aberdeen and gets bigger and bigger."
Aberdeen City Council leader Jenny Laing said the event was part of a plan to bring more life to the city centre.
She said: "People from all over the world have come here for this, and locals have shown it such support.
"We certainly want to make this an annual occasion."
The Great Aberdeen Run, sponsored SimplyHealth, was the biggest event of its kind ever to take place in the city.
Organisers began setting preparing the route at 4am yesterday as they attempted to match the success of the Great Scottish Run in Glasgow and the Great North Run in north-east England.
Deputy Lord Provost Alan Donnelly said he hoped the extravaganza would encourage residents to become healthier.
He said: "This is a great thing for the health of the city and it has brought a real vibrancy to the centre."
Kenny WIlson, from Moray Road Runners, triumphed in the 10k with a time of 31 minutes and 54 seconds, while the fastest female was Metro Aberdeen Running Club's Fiona Brian with a time of 36 minutes and 31 seconds.
Robbie Simpson, from Deeside Runners, was first over the finish line in the half-marathon with a time of 67 minutes.
Parishioners from the Gilcomston South Church on Union Street got into the spirit of the day by offering up platters of free bacon rolls to replenish runners and onlookers.
There was a family run around the centre at 1.30pm, which was created to suit children as young as three.