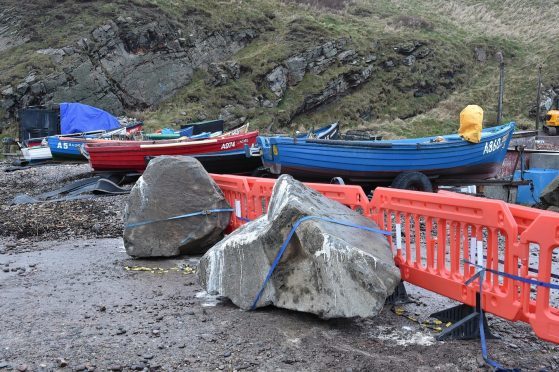 Fishermen are calling on divers, kayakers, rock fishers and other Cove harbour users to back their legal challenge for access on the site.
The group will be taking their fight to Aberdeen Sheriff Court next month, and they are calling on people who use the bay to support their case.
The group has been embroiled in a turf war with landowner Pralhad Kohle over a section of land where they parked their fishing boats for the last four years.
Mr Kolhe, a consultant plastic surgeon who owns part of the bay at the harbour, had four large boulders laid at the site to stop fishermen leaving their boats and also issued an order to owners to move their vessels from the spot in August 2015.
The fishermen launched a legal challenge and were backed by 2,800 people in an online petition.
And on September 21, a date will be set for a four-day hearing on the battle – meaning all witnesses must be finalised and documents lodged.
Campaign group Save the Fishing Boats of Cove Harbour is now looking to speak to the fire service and UK Coastguard in regards to emergency and safety concerns, as well as divers, kayakers, dog walkers, rock and boat fishers, bird watchers, activity groups, climbers, swimmers and anyone else who uses the harbour for professional or recreational reasons.
Fisherman Jim Adam said: "We've had a good response already, but we're still gathering information. If nobody can use the land, kayakers and divers will have to carry their boats and gear all the way up the hill. There's a lady who uses the sea to fill up her fish tank, she won't be able to carry water all the way up the bank. It's not just us that it affects."
Last month the fishermen were forced to launch a crowd funding campaign after racking up legal bills of more than £20,000.
Mr Kohle declined to comment on the case.
Anyone who would like to offer their support can get in touch with Jim Adam on 01224 249391 or adamjim777@aol.com