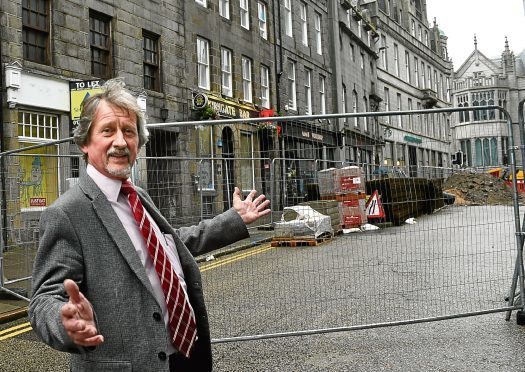 Aberdeen city centre businesses have demanded answers over delays to a £3.2million scheme to pedestrianise Broad Street, which is expected to continue into 2018.
Resurfacing work which should have been completed in June has been put back several times, leaving pubs, shops and restaurants facing reduced trade and increased delivery problems.
Now it is understood that a temporary surface will be put in place for the Christmas Market, meaning work would run into next year.
Colin Cameron, boss of the Kirkgate Bar in Upperkirkgate, has to roll kegs up the hill due to delivery drivers not being able to get close to the pub.
He explained he was fed up waiting for the work to be completed, and wanted answers from the council as to why it was taking so long.
He added: "In June, a sign went up, saying it would be finished in two-and-a-half weeks.
"They were already four months behind because of problems appointing a contractor.
"Just before it should have been reopened, a sign went up saying it would be delayed until August 6.
"Then, lo and behold, the day before, a new sign was put up to say it would be delayed until October 8.
"Now, there is no sign there saying what date it will be done at all which is very concerning.
"I keep getting told that people are working on it, but you only have to look outside to see no one is there most of the time. They'll appear for a few days then disappear again.
"We are not the only business affected. There are seven or eight shops which are suffering as well.
"The really annoying thing is the lack of communication. No one is telling us anything."
Andrew Begg, who runs Andrew Begg dancewear shop, said: "For it to have taken this long is pathetic. There is no urgency to get it done whatsoever.
"People just see a building site and think that Upperkirkgate isn't even open for business. Others have been hit a lot harder than us, but we are not in a good situation."
An Aberdeen City Council spokeswoman said: 'We received the draft construction programme on August 30, which is being reviewed."