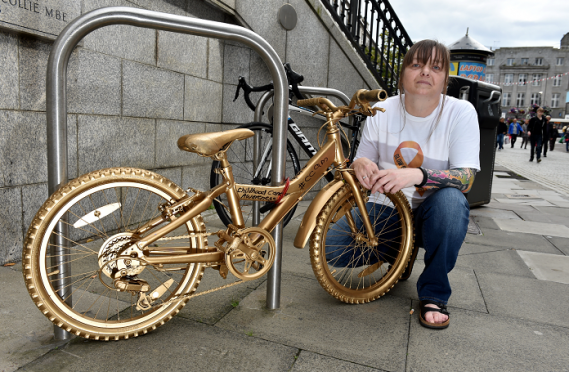 North-east mums who have lost their children to cancer have propped glistening golden bikes in public places as part of an awareness crusade.
Milene Munro, from Aberdeen, has devoted herself to spreading information on how cancer can affect children since the death of her seven-year-old son, Braeden Williams, from a brain tumour in 2014.
Stonehaven mum, Tanya Turnbull, lost her five-year-old son, Sam Dorrance, to the illness last summer.
The pair have led efforts to bathe local landmarks in golden light for the "glow gold for September" initiative in recent years.
And for their latest awareness-raising campaign, they went through dozens of cans of gold spray-paint to coat the bikes and scooters which were to be chained up at prominents spots on Union Street and in parks in Stonehaven.
Each of the bikes and scooters has been adorned with the name of a child from the north-east who has fought cancer, and the shiny bicycle honouring Mrs Munro's son is on view outside Marks and Spencer.
They also show information about the warning signs of childhood cancer.
Ms Munro revealed that the idea struck her after she noticed a similar effort on the Isle of Man.
The 48-year-old added: "I thought it could be done in Aberdeen, so I put a post online appealing for old bikes.
"I ended up with six bikes and two scooters, and had to invest in 48 250ml tins of gold spray-paint to give them a good coating.
"As well as Braeden's bike there are others for children who were in hospital at the same time as him.
"I just want them to catch people's eye, and to get them thinking about childhood cancer."
Ms Turnbull added that the tribute was especially poignant as Sam had looked forward to cylcing.
She said: "He kept saying 'I'll ride my bike by the time I'm five'.
"He can't do any of those things now and that's what makes the bikes so significant.
"They are signifying all the childhood dreams of those lost children."
Braeden was diagnosed with a tumour the day before his fifth birthday, in 2012, and died in October 2014.
Sam was diagnosed with an aggressive brain tumour in September 2015, shortly after starting P1 at Dunnottar Primary School, and died last July.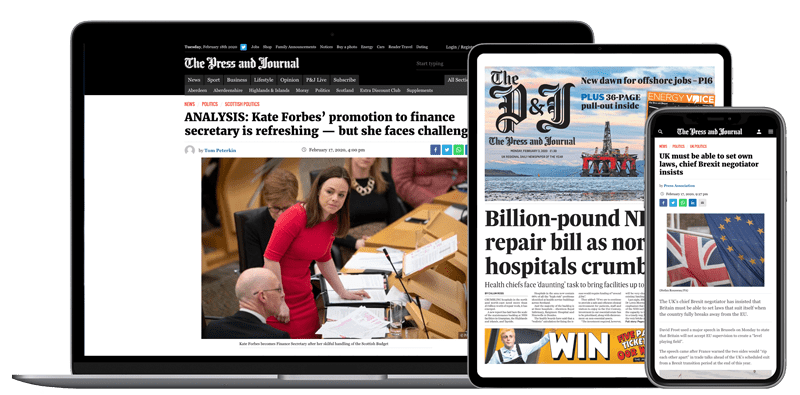 Help support quality local journalism … become a digital subscriber to The Press and Journal
For as little as £5.99 a month you can access all of our content, including Premium articles.
Subscribe