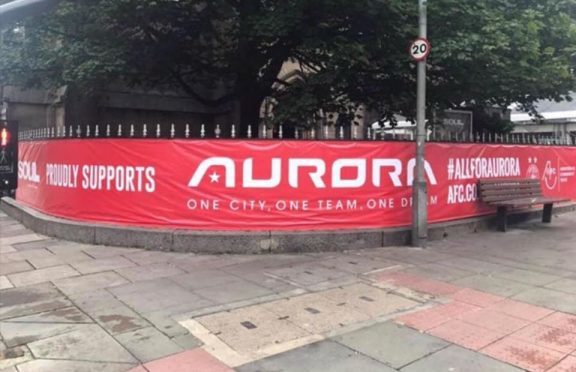 A bar manager has been ordered to pull down a banner he put up outside his Union Street premises to show support for Aberdeen FC's new stadium ambitions.
Paul Clarkson tied up the bright red poster along the railings outside Soul Bar to display his backing for the Dons' drive to create a £20million ground at Kingsford.
Mr Clarkson was spurred into action after the football club's vice-chairman, George Yule, encouraged supporters to paint the city red in support of the planning application – which will go before councillors next month.
But the local authority has now written to the bar manager ordering that the colourful message be taken down.
The council maintains that planning permission should have been sought prior to the banner being displayed.
Mr Clarkson believes the authority acted after receiving complaints from those against the Kingsford scheme.
Taking argument with the council's reasoning, he vowed to leave the banner up.
Mr Clarkson said: "I had one similar to this displayed in the same way for the recent cup final, and the council didn't complain then.
"I was asked to take it down by Monday, but I will leave it up until I am forced to remove it.
"We are simply stating our support for something, it is not an advertisement.
"I am a believer in the campaign, and I think that having a successful team will bring about benefits for the city in terms of its economy and bringing about a feel-good factor."
A council spokesman said: "As the establishment has not applied for consent, we have written to the management of the Soul Bar requesting that they remove the banner currently on the building's fencing.
"We are awaiting their response and we are happy to enter into a dialogue regarding an application for consent."