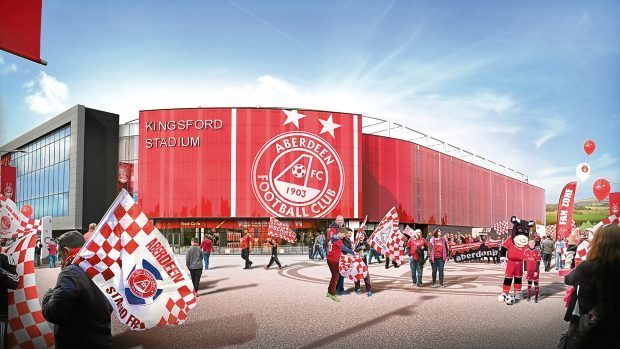 More than 10,000 people have voiced their opinion on Aberdeen FC's proposed Kingsford stadium, ahead of an important public hearing next week.
And the findings show a narrow majority in favour of the new development.
Aberdeen City councillors will meet next Wednesday to consider a report into the planned £50million development, between Westhill and Kingswells.
This reveals a total of 10,147 submissions were received after a wide-ranging consultation.
It showed that 52.5% of those consulted were in support of the plans, and 47.3% objected.
Less than 0.2% of letters received gave a neutral stance.
The planning application for the 20,000-seat arena, training academy and heritage museum at Kingsford will be put before a full meeting of Aberdeen City Council next month.
The proposal has been backed by a number of high-profile figures, including Sir Alex Ferguson and club heroes Willie Miller and Bobby Clark.
Kingsford proponents and Aberdeen FC have argued the move from Pittodrie is necessary to safeguard the club's future.
However, the No Kingsford Stadium group has vocally opposed the plans since they were first unveiled.
The organisation has raised concerns about the green belt status of the application land, highlighted potential ecological and environmental impacts, and the effect it will have on parking and traffic in the nearby communities of Westhill and Kingswells.
George Yule, executive vice-chairman of Aberdeen FC said: "Usually, those who object to something are much more vocal than those in support.
"So we are very encouraged to find out that the 'silent' majority have found their voice on this occasion.
"This underlines our belief that we have overwhelming support for Kingsford.
"We are very grateful to all those who took the time to engage constructively in the consultation process."
A statement from NKS said: "We have raised concerns relating to the draft statement for the pre-determination hearing with the chief executive of Aberdeen City Council.
"The figures stated in the draft document are inaccurate.
"In order for a comment to be valid, it must contain material considerations relevant to the application.
"We understand this matter is currently receiving attention from Aberdeen City Council."