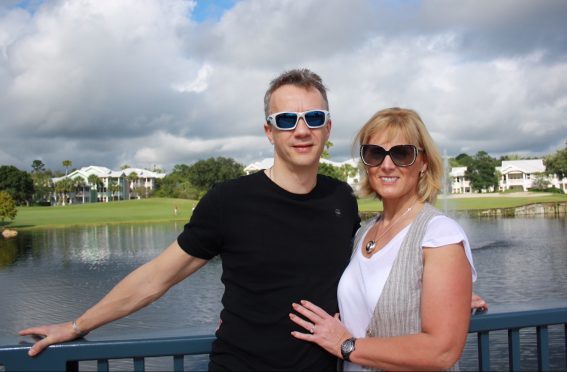 A north-east family turned a Disney World laundry room into an emergency bunker as the strongest hurricane in history battered Florida last night.
Phil Allan and his wife Sharon are among large numbers of Brits forced to batten down the hatches to protect themselves from the full force of Hurricane Irma.
They described seeing branches torn from trees and flying past their window as the wind intensified last night and have filled a bathtub with water in case the supply is cut off.
The worried pair are holidaying with Mrs Allan's children, aged 24 and 22, and fear their return to the UK could be delayed by days as flights from the sunshine state are cancelled.
Disney World was closed for only the sixth time in history as Irma closed in with families staying there instructed to remain within the resort.
Mr Allan, who is an account director for the Bread PR firm, said: "We haven't left the apartment since Saturday and have stocked up on enough food and water to see us through.
"We were advised to fill our bathtub with water in case the system is overwhelmed, so we will at least have some to drink and to flush the toilet.
"We have been glued to the news channels to keep updated on it, and have created a safe room to use as a small bunker if needed."
Hurricane Irma has been blamed for the deaths of least 24 people in the Caribbean.
The storm closed in on Orlando last night, after pounding the Florida Keys with winds of 130mph during the day.
The entire city has placed on curfew, with residents instructed not to leave their homes for 24 hours.
Despite that, Mr Allan described a sense of "calm preparedness".
He said: "Everybody here is very well-prepared, even though the storm was initially predicted to hit the east coast and only recently swerved west.
"There is an extraordinarily pragmatic approach being taken.
"We are in an apartment built to withstand the most severe hurricanes, so it should be secure.
"But we are concerned and we are giving this hurricane every respect."
The family has booked flights to return to Aberdeen on Tuesday, but fear they may be forced to remain in Florida until later in the week.
Mr Allan's stepchildren, Cara and Scott McColl, have been updating concerned friends and family members on the situation via social media.
Aberdeen resident Graeme Herd is holidaying in Clermont, Florida, and yesterday brought patio furniture indoors to spare them from being swept away.
He said he was "keeping his fingers crossed" the damage caused by Irma won't be too severe.
Mr Herd added: "I think that they are more concerned for tornados in our area at the moment, and a lot of villas near us have their windows boarded up.
"I just hope that it is like Hurricane Matthew last year, which wasn't too bad. Fingers crossed."
Ellon man Allan Steele and his wife, Ann, have spent the winter months in Naples, Florida, for the last 15 years and have many friends in the area.
Mr Steele was in Naples when Hurricane Katrina caused devastation there in 2005, but he is determined to return there later this month.
He said: "A lot of our best friends are out there, we have been speaking to them regularly – they are all hunkered up in their safe rooms.
"I'm quite concerned, this looks to be a truly devastating storm.
"Florida is only 125 miles at its widest and Irma is 135 miles wide – there is not going to be any place left untouched.
"My friends don't want to evacuate – they are locked in with water, food and a generator – and they have taken in some other friends who are in their 90s."
Peterhead woman Gemma Fisher is in Kissimmee, a city just south of Orlando, with her boyfriend and five friends.
The group had been scheduled to fly home yesterday but flights have been grounded and they now have "no idea" when they will return.
Ms Fisher said she has been told they will only leave "when it is safe to".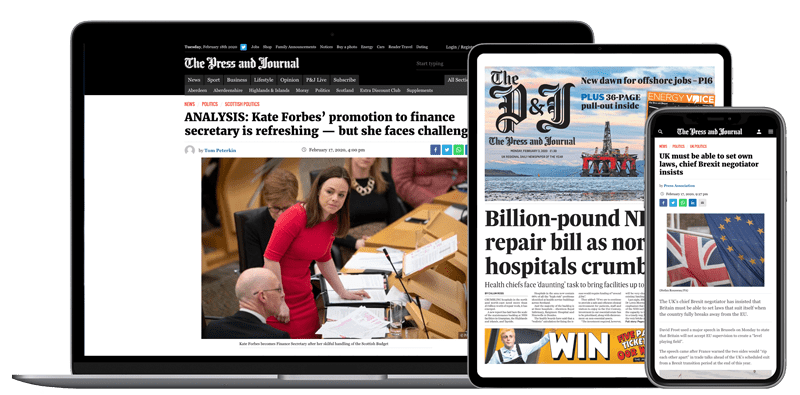 Help support quality local journalism … become a digital subscriber to The Press and Journal
For as little as £5.99 a month you can access all of our content, including Premium articles.
Subscribe