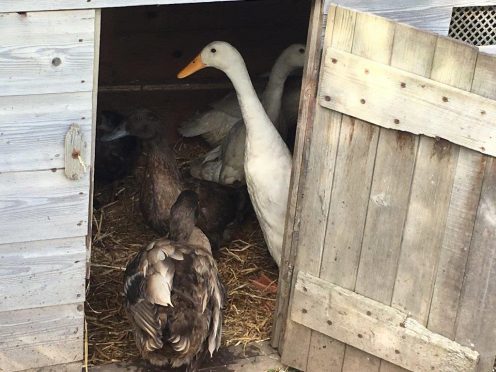 Aberdeen residents were left wondering whether fowl play was involved after 19 farm birds were discovered on a city street.
An animal welfare charity is calling for information or the owners of the poultry to come forward after the unexpected find of seven geese, nine ducks and three chickens on the Howes Road in Bucksburn.
The Scottish SPCA was alerted by a concerned member of the public who spotted the gaggle from the roadside last Wednesday.
Last night, a spokeswoman said the charity was looking for the owner and, if that proved unsuccessful, they would begin the process for new homes for the animals.
The creatures are currently being taken care of by the charity at their Drumoak base as offiocials seek answers to the mysterious discovery.
Inspector Fiona McKenzie of the Scottish SPCA confirmed investigations were continuing and urged anyone with information to come forward.
She said: "At this stage we don't know how the animals came to be there.
"It's possible they have strayed from somewhere nearby, but we also can't rule out the possibility they were dumped.
"We're keen to hear from anyone who recognises the animals. If we aren't able to reunite them with their owner we'll find them a loving new home."
Abandoning an animal is an offence under the Animal Health and Welfare (Scotland) Act 2006. Anyone found guilty of doing so can expect to be banned from keeping animals for a fixed period or life.
Anyone with information is being urged to contact the Scottish SPCA Animal Helpline on 03000 999 999.
Dyce, Bucksburn and Danestone councillor Barney Crockett responded that the incident was likely to provoke "big community interest".
He said: "We used to have poultry processing in Bucksburn, but I think this must be a first time they've been found actually walking around.
"I'd urge the owner of the birds to make themselves known, but if not, then I'm sure a good home can be found for them."