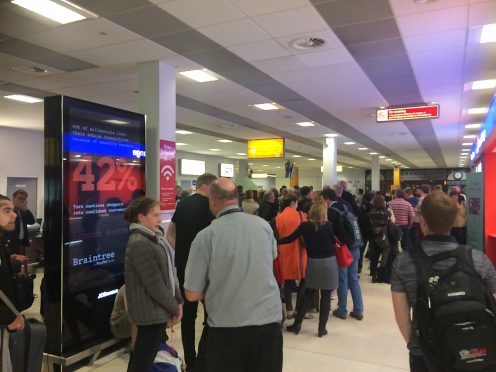 An investigation has been launched after a 2ftx2ft hole was discovered on the runway of Aberdeen Airport.
Hundreds of travellers were left stranded on Sunday evening when all flights, in and out of the airport, were suspended for almost two hours while staff repaired the problem.
Planes heading into Aberdeen were forced to be diverted to Glasgow, Edinburgh and Inverness for the safety of those on board.
Normal services resumed at the airport yesterday, and an investigation into the cause of the "minor defect" was launched.
A spokeswoman for the airport said: "On Sunday September 10, we experienced disruption to some services due to damage to a very small section of tarmac at the north end of the runway.
"Due to the location of this minor defect, the northern end of the runway was closed at approximately 5.45pm for repairs.
"This resulted in delays to a number of arrivals and departures with only a small number of departures being able to operate during this closure.
"The repairs to the tarmac were completed and the runway fully reopened at 7.30pm.
"We would advise passengers to check with their airline before travelling to the airport and we will continue to update our website and social media channels as more information becomes available."