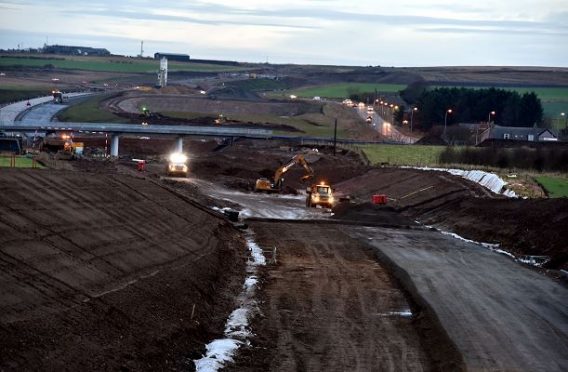 The first section of a major north-east road will open in the next few weeks as the long-awaited Aberdeen bypass nears completion.
At just under two miles, the new section of the A90 Foveran to Bridgend carriageway is expected to open to motorists by the end of the month.
The AWPR – Balmedie to Tipperty project – has been a long wait for north-east residents with plans originally put on the table for an Aberdeen bypass after World War II.
The first beams for the project arrived in the region back in October 2015 when 23 of the 33-metre-long structures were installed at the Tipperty Underpass.
Yesterday, a Transport Scotland spokesman said: "As construction works between Bridgend and Foveran continue, the contactor is expecting to implement a new road layout during the next few weeks.
"Road users will be using a 3km section of the new A90 carriageway for the first time, enabling the contractor to undertake other works in the area.
"This change to road layout will bring road users into close proximity with workers, so we are strongly encouraging road users to apply more caution than usual when driving through or nearby this section of the A90.
"Road users should also observe all road signage to enhance their safety, as well as the safety of others.
"We would like to thank road users for their continued patience and support during the construction of this major infrastructure project."