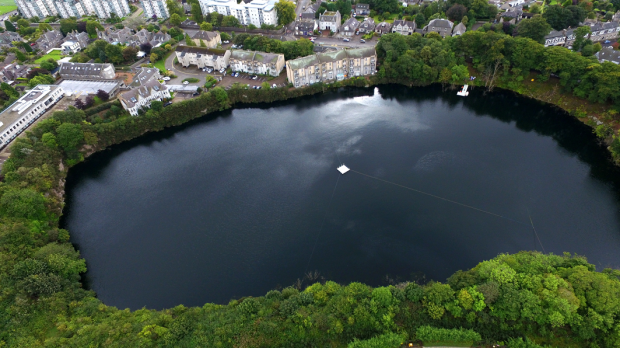 The chief executive of Visit Scotland has backed a plan to transform one of the biggest man-made holes in Europe into a visitor centre celebrating the north-east's granite heritage.
Malcolm Roughead will travel to Aberdeen's Rubislaw Quarry this afternoon to learn more about proposals to create a £6million tourist destination at the site.
He will meet with project director Hugh Black, the catalyst for the scheme, to discuss the significance of the now-flooded quarry, which gave the Granite City its nickname.
Mr Roughead said: "I am thrilled to be attending today and to hear Hugh's plans for the Rubislaw Quarry heritage centre which, I hope, will eventually be a great asset to the city's visitors.
"It seems very fitting that in this, Scotland's Year of History, Heritage and Archaeology, we are discussing marking something which has played such an important part in Aberdeen's past – almost 75% of Aberdeen's buildings, bridges and monuments were made from Rubislaw granite."
Mr Roughead's visit will coincide with a Scotland-wide art project taking place at Rubislaw and the top of Ben Nevis.
Artist Henry Castle has taken a slab of granite from the Aberdeen quarry, one of the lowest points in the country, to its highest – the peak of Ben Nevis.
And today, he will team up with the global subsea company Kongsberg to convey a stone from the top of Ben Nevis on a controlled descent to the bottom of Rubislaw Quarry with a GPS positioning buoy.
The technology will mean the piece of Ben Nevis will always be locatable.
Project director Mr Black said: "We are delighted to help Henry Castle finish his work in making the connection between two very different locations but both iconic landmarks – Ben Nevis and Rubislaw quarry.
"Everyone knows Ben Nevis is the highest point in the UK, but very few people will be aware that the floor of Rubislaw Quarry was once the lowest accessible piece of land in the UK, covering approximately three acres, sitting more than 100 metres (328 feet) below sea level.
"These are very exciting times for us as we get closer to establishing a world-class visitor centre at Rubislaw Quarry, where we can share the story of Aberdeen's granite heritage and how the Granite City was once the centre of the world's granite industry."