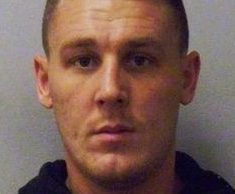 Two brothers who were "heavily involved" in the north-east drug trade have been jailed for a total of 12 years after police seized more than £1.3million of cocaine on the streets of Aberdeen.
Garry Davidson, 27, was sentenced yesterday at Edinburgh High Court to five years and 219 days imprisonment for his involvement in the supply of the drug.
He joins younger sibling Harry behind bars, two months after the 24-year-old was handed a six-year term at Glasgow Crown Court.
Intelligence about the pair's activity led the Granite City-based Organised Crime and Counter Terrorism Unit (OCCTU) to launch Operation Hellfire.
Garry Davidson was arrested on June 23 following an operation which found cocaine with an estimated street value of £17,700 in the Banchory-Devenick area.
That followed a swoop in March that uncovered another haul of the drug with a street value of £1,285,700 in a vehicle on Oscar Road, Torry – resulting in Harry being brought to justice.
Last night Detective Inspector Robin Sim revealed officers had engaged in "significant covert" work to bring the pair to justice.
He said: "Garry and Harry Davidson were heavily involved in the supply of cocaine in Aberdeen and ran a well organised operation.
"A significant covert police operation was launched due to intelligence received about the Davidson brothers' involvement in the supply of drugs.
"As a result of this police operation, a significant amount of illegal and harmful drugs have been removed from our community.
"The supply of illegal drugs is not welcome in our communities and we will continue to take action to target those who peddle drugs.
He added: "Anyone with information about the supply of controlled drugs is urged to contact police on 101."
MSP Liam Kerr, justice spokesman for the Scottish Conservatives, praised police for their efforts.
He said: "This was a significant operation with an enormous amount of drugs taken off the streets of the north-east.
"Credit is due to the police force for cracking down on two criminals who were operating with total disregard for the damage their trade was causing in the community.
"This should send a strong message to others who are involved in drug dealing that they will not get away with it."