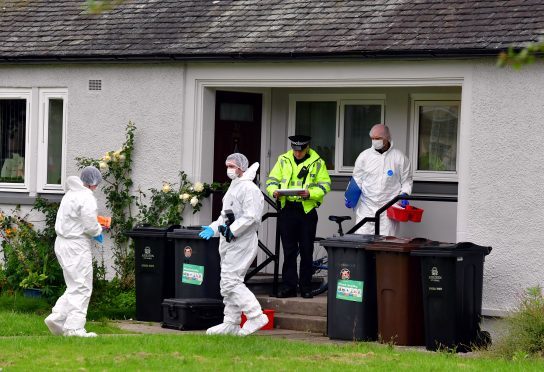 Police are investigating the mystery death of a couple at their home in Aberdeen.
The woman, named locally as 68-year-old Kathleen Thomson, and man were found dead in a property on Byron Crescent late on Saturday.
There are not thought to be any suspicious circumstances, but police continued their investigations throughout the day yesterday.
The end terrace house was taped off after the grim discovery was made at about 9pm on Saturday, and officers remained at the scene throughout the night and for much of yesterday.
Forensic teams dressed in white paper suits and gloves could be seen examining the house, while a police officer stood guard at the front door.
Residents looked on in disbelief from afar while they watched the investigations continue.
Annette Garry, who lives in Byron Crescent, said: "The police have been there since about 9pm last night. I've never seen anything like it. The last time I saw him was about two weeks ago and that was only to say hello to.  It's very sad whatever has happened. I knew it must be serious when I saw so many police there."
Neighbour George McKerrick said: "They are like most people around here. They keep themselves to themselves. I always used to see them in passing to say hello to. They would never really talk much, they didn't go to the pub. I didn't see anything or hear anything at all."
Shaun Green said: "I always thought they seemed nice. I think a lot of people round here don't really talk to each other very much. I was really shocked to hear about it and see all the police there with the tape and everything."
Councillor Jackie Dunbar, who represents Northfield and Mastrick North, said: "My heart goes out whenever I hear about something like this because there is always a family.
"It makes it even harder to deal with when it's unexplained in the first place. Folk will speculate which doesn't help."
A police spokesman said: "Officers for Police Scotland are in attendance at an address on Byron Crescent and are making inquiries into an unexplained death.
"The investigation is at an early stage and inquiries are ongoing."