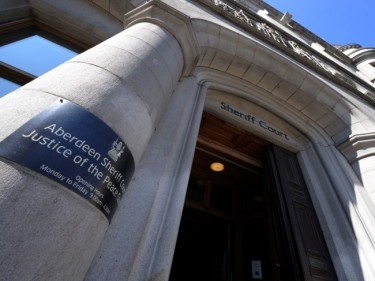 An Aberdeen man has been fined £600 for assaulting the mother of his children.
Rory Lawie, 34, admitted to grabbing Laura Ann Sherriffsby the neck and "applying pressure" to it after an argument at their Back Hilton Road home turned ugly.
Aberdeen Sheriff Court heard yesterday that the violent episode had brought an end to the couple's nine-year relationship.
Fiscal Katy Begg said police were called to the property after 2am on August 12.
She said: "Both were sitting on the sofa when they began to argue, and at some point the accused pushed the complainer backwards.
"That continued, then the accused pulled his partner to the ground and took hold of her neck, applying pressure to it.
"The complainer managed to get to her feet, and immediately went to the kitchen and called the police."
The fiscal added that though Ms Sherriffs complained of soreness in her neck, and had bruising to her chest, she did not require hospital treatment.
Lawie, who now lives on Menzies Road, later accepted a charge of assaulting Ms Sheriffs by "pulling her by the hair, seizing hold of her by the neck and applying pressure,  and pushing her on the body to her injury".
Representing the accused, defence agent Charlie Benzies said that his client and the victim had two children together and both were eager to have the matter resolved.
The lawyer added: "My client regrets his actions, though the pushing and shoving went on between both sides."
Sheriff Morag McLaughlin imposed the £600 fine after hearing that Lawie makes a healthy living.