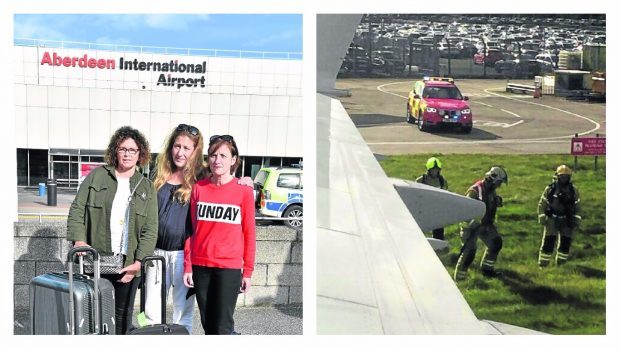 A woman has described the terrifying moment she was woken up by friends telling her there was a problem with their plane – before a "burning smell" filled the cabin.
Heather Forgie, 45, and two friends Lorna Rosie and Judith Birkhead, both 48, were flying back to Aberdeen from a holiday in Italy when an emergency was declared onboard.
The trio, from Insch, had already spent an unexpected night in France after missing their connecting flight at Paris Charles de Gaulle due to a delays in Ventimigilia, northern Italy.
And when they heard their plane was going to make an emergency landing in Edinburgh due to a "control issue" affecting the brakes, they feared the worst.
They claimed the captain told passengers the plane was diverting to Edinburgh as the runway at Aberdeen International Airport was too short to make a safe landing – although last night bosses denied that played a factor.
Mrs Forgie said: "I was actually asleep when the call went out. When my friends told me there was an emergency, I thought they were having me on.
"The crew told us there was a flight control issue and we couldn't land in Aberdeen. Then they told us that there was a problem with the brakes and the Aberdeen runway just wasn't long enough."
After touching down in Edinburgh, passengers were told to stay onboard – despite a burning smell filling the cabin.
Emergency services raced to inspect the plane, with firefighters checking the brakes. Mrs Forgie added: "We were able to leave the plane at around 11am but we were onboard for some time while firemen checked over the brakes.
"It looked like they were checking to see whether they were on fire. There was a smell of burning so we were worried we weren't evacuated off the plane until a considerable amount of time after landing."
Passengers were eventually put on a bus to Aberdeen, and arrived home late yesterday afternoon.
And Mrs Forgie said one of her friends, Judith, who is a particularly nervous flyer, is now contemplating giving up flying altogether.
The trio had been travelling on HOP flight AF1272 when the alarm was raised.
A spokesman for the airline, which is run by subsidiaries of Air France, said: "The crew handled the situation in accordance with the procedures of the company and the manufacturer by diverting the aircraft to Edinburgh, the nearest airport where it landed normally.
"Staff are regularly trained to deal with this type of situation and the 70 passengers on board were assisted by the local commercial team and transported by bus to Aberdeen.
"The company regrets the inconvenience faced by its customers and reminds that the safety of the passengers remains its priority."
A spokeswoman for Aberdeen International Airport said the flight had been diverted due to a "technical fault only" and said the flight's handling agent, Dalcross, had yet to disclose any further information.
She added that the airport's airside operations team had denied any claim the diversion was in relation to runway length.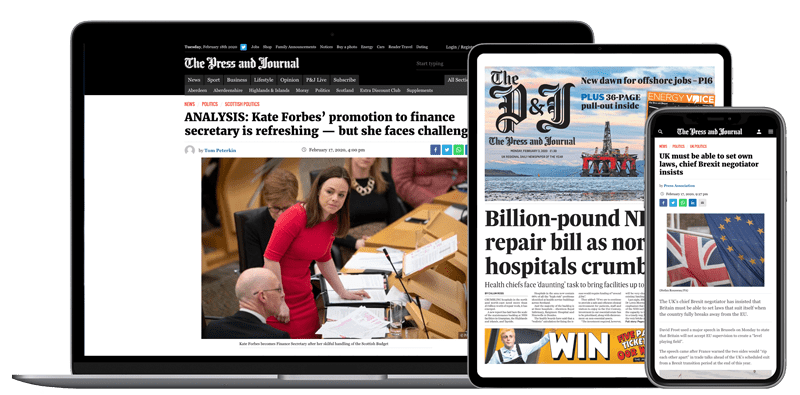 Help support quality local journalism … become a digital subscriber to The Press and Journal
For as little as £5.99 a month you can access all of our content, including Premium articles.
Subscribe