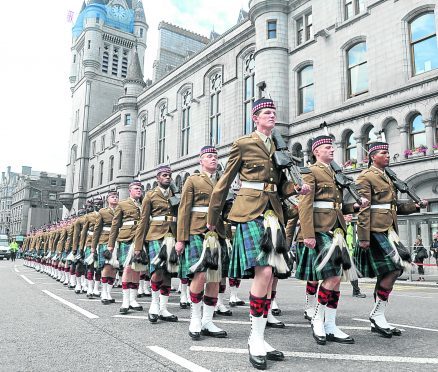 Hundreds of soldiers will march through the city centre this week as they are welcomed back from duty overseas.
The Highlanders, 4th Battalion Royal Regiment of Scotland, have returned home following their tours of Iraq and Ukraine.
Also known as 4SCOTS, the group includes the Aberdeen-based Gordon Highlanders which, after exactly 200 years, merged with other Highlanders in 1994 before becoming part of The Royal Regiment of Scotland in 2006.
From noon on Friday around 200 men and women from the infantry battalion will march the length of Union Street with pipes and drums, a colour party and military vehicles.
Aberdeen's Lord Provost Barney Crockett, in his role as Lord Lieutenant for the city, will take the salute as they pass the townhouse about 20 minutes later.
The festivities will begin earlier in the day with a military display on the Castlegate from 10.30am.
Both adults and children will be able to get hands-on experience with specially adapted quad bikes and an armoured Jackal 4×4, as used by troops in Iraq and Afghanisatan.
The vehicles used in the parade will join the line-up after the march until the close of the event at 1pm.
Bryan Snelling, chief executive of The Gordon Highlanders Museum, said: "It is always great to welcome 4SCOTS back to Aberdeen and the north-east of Scotland, their historical home.
"It is within this new identity that the legacy of the Gordon Highlanders continues to live on as part of the current British Armed Forces."
The Lord Lieutenant of Aberdeen added: "There is really strong support for the armed forces in Aberdeen and people are very proud to see the Highlanders coming back to their historic home.
"This is a chance for everyone to line Union Street and show how much we appreciate them."
A number of road closures will be in place during the parade in order to ease congestion.
Albyn Place will be closed from Albyn Grove to Union Street from 11am to 12.15pm.
From 11.50am the length of Union Street will be blocked off for approximately one hour, as will the section of King Street connecting it to West North Street.
A number of restrictions are also being lifted between 11am and 12.45pm to ease congestion during the event, including the prohibition of right turns from King Street onto West North Street, and Holburn Street onto Willowbank Road.
The one-way system on Chapel Street will also be suspended.