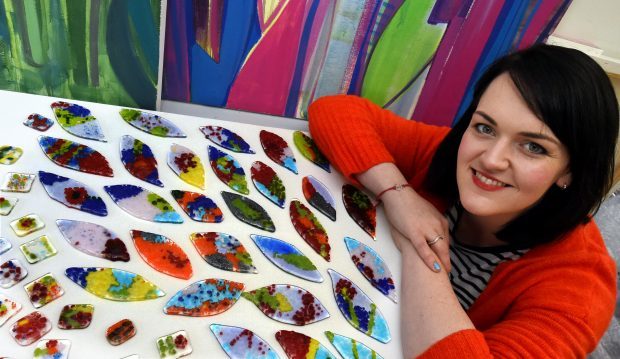 Construction has begun on a glass mosaic which will become a mainstay of the Duthie Park for generations to come.
Footdee-based artist Shelagh Swanson has transformed the Winter Gardens' education room into an art studio, where she will piece together hundreds of glass tiles into a six-metre-long, one-metre-tall mural over the next three weeks.
Since beginning her residency at the studio last month, she has recruited more than 500 people to help her design the tiles.
Her volunteers have included children from three local primary schools and a group from Alzheimer's Scotland.
While each has been individually decorated, Ms Swanson will fuse the tiles together to make a larger picture paying homage to the studio's surroundings of the Japanese Garden.
It will then be displayed as a permanent fixture on the side of the room.
The panels Ms Swanson will be working on were delivered yesterday lunchtime.
They are now being joined together and painted solid white, ahead of work to build the mural beginning at the weekend.
Members of the public are invited to help add the tiles at drop-in workshops being held at the studio from 10am – 4pm over the next two Saturdays and Sundays.
Ms Swanson said: "My main ambition as an artist is to get people involved.
"If I get people involved, even in a small way, I will have achieved that.
"There's going to be a real sense of community ownership over the mosaic.
"The Duthie Park is such a well-loved place that people visit on a regular basis, and they will all feel that they own a piece of this art."
The project has been funded by Aberdeen City Council and Friends of Duthie Park.
Council Communities, Housing and Infrastructure convener, Councillor Yvonne Allan, said: "Over the past year there has been a real buzz about Aberdeen's art and cultural community.
"Events such as SPECTRA and the NuArt Aberdeen festival have been extremely well received by both residents and visitors to the city.
"I hope that everyone gets behind this venture and can help to create something unique that will be enjoyed by future visitors to the Duthie Park."