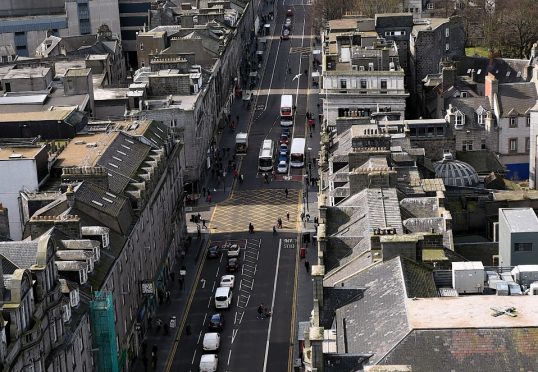 It is one of the most famous thoroughfares in Scotland – a place where Sir Alex Ferguson and his Dons stars paraded the European Cup Winners Cup to the rapturous acclaim of tens of thousands of proud members of the public in 1983, and the north-east's London Olympic luminaries followed suit in 2012.
But now, as Aberdeen struggles to deal with the effects of the oil and gas downturn, one businessman who has just returned to his roots has described Union Street as an "absolute disgrace".
Retail consultant David Cran grew up in Aberdeenshire and waxed lyrical about making visits to the Granite City with his parents as a youngster.
Yet, in his assessment, where once there were bespoke shops, family-run retail arcades and a rich assortment of diverse premises, thronging with shoppers, now there are betting outlets, empty buildings and second-hand stores.
Mr Cran, who formerly worked with Marks and Spencer and now runs his own company, argued it was time other residents voiced concerns about Union Street in its current guise.
He said: "What on earth has happened to our main shopping street? At one stage, it was almost impossible for a retailer to find a shop unit to showcase and sell their goods, but it has been reduced to a derelict mess.
"It is an absolute disgrace to our wonderful city. The local authority and its officials should be utterly ashamed.
"I grew up in this great place and fondly recall weekend shopping trips with parents and friends. I then went into retail and, for the past 15 years, have been living overseas and working in senior retail leadership roles across Asia. I have been fortunate in that my job took me to many cities across the globe, where I saw and sampled world-class retail and shopping malls, precincts and streets.
"So I believe I am very well qualified to comment on this shambles that we call our main shopping street."
Many communities across the region have been forced to contend with a reduction in shoppers visiting the high street when they can buy items online or travel to self-contained out-of-town retail parks.
Some places, such as Inverurie and Elgin, have recently voted to become BIDs (business improvement districts) and Peterhead could become the latest to join their ranks when the port's retailers vote on the initiative today.
John Pascoe, vice-chairman of Rediscover Peterhead, is among those championing the proposal and believes it is pivotal to improving the high street experience in the Blue Toon.
He said: "Our shops have generally suffered a drop in footfall and, while some new businesses have opened in the town, there is a fair job to do and that is why it is necessary to make this BID idea work. We have lost customers to the internet, or in situations where people head off to Aberdeen rather than stay here.
"But this is an important decision for us and it is D-Day this week. It's not as if there is anything else magical coming along if this doesn't get the go-ahead."
Back in Aberdeen, the local authority responded yesterday to Mr Cran's complaints by outlining its plans to transform the city centre.
A number of signs have recently started appearing in and around Union Street, proclaiming "Art is the New Oil", and the council insisted that steps are being taken, whether in the refurbishment of the art gallery and Music Hall, or the creation of Marischal Square, and pedestriansisation of Broad Street, to move away from the smoggy congestion and littered streets that have gained criticism in the past.
Councillor Marie Boulton, who is leading the transformation for Aberdeen City Council, said: "We fully recognise the importance of Union Street to residents. That is why we have put it at the heart of the city centre masterplan, the biggest regeneration programme in the city's history.
"In the last year, an extra £600,000 has been committed to improving its appearance and making it more user-friendly as part of Operation Union Street Rejuvenation, the first step in a phased programme of works.
"Led in partnership in Aberdeen Inspired, this has included an overhaul of street furniture and the creation of a dedicated team to keep the thoroughfare in top condition through painting and repairing. A deep clean was carried out less than three months ago and another is planned next month.
"This year, Union Street has provided a backdrop for Nuart, the Cycling Tour Series and the Great Aberdeen Run, all of them new events to the city. It has been in the spotlight.
"However, the council's hard-working staff cannot be on every street corner, ready to swoop the moment rubbish is dropped. The real solution is to continue to restore civic pride through the city centre masterplan."
Ms Boulton added: "The high street has changed across the UK, but the number of independent retailers in the city centre has increased over the last 12 months and now exceeds 450.
"Union Street is evolving in a positive way. The once-empty Capitol building is home to financial giants PwC and leading law firm MMS, and they will soon be joined by oil and gas company, Chrysaor."
But Mr Cran is unconvinced of the authority's approach, and said he was shocked at the response of a community councillor he spoke to about the state of Aberdeen's main thoroughfare.
"I recently took some time to talk to a community councillor to get his opinion," he said. "He told me: 'Oh come on, it's not that bad, and we have put up some lovely graphics on the store fronts of some of the empty units'.
"I was speechless. It seems tackling the issue is being met with wasting money on expensive graphics in a vain attempt to hide them, rather than have the shops filled for shoppers which would create jobs and stimulate the economy."
In recent times, Aberdeen has suffered the severe effects of the oil and gas downturn, with tens of thousands of jobs losses, while concerns over business rates have caused problems for retailers.
However, Mr Cran, who launched his new business, Salve Supplements this year, claimed it was simplistic to blame all the problems on "the excuse" of the oil and gas troubles.
He said: "Granted, this has affected the city, more so than it would other areas of the UK, but this disaster has not happened overnight.
"The oil industry is one thing, but there is still a population of a quarter of a million people who live here and need to shop. Other cities can fill their shopping streets without having an oil industry to rely on. Dundee has a population a third less than Aberdeen and has a far better shopping offer today than the Granite City."
How Elgin city centre has bucked the trend
Gill Neill, Elgin's BID manager, has been excited at recent developments in the Moray community, which have bucked the trend in many other places.
She said yesterday: "We are delighted Elgin City Centre has seen a noticeable decrease in the number of empty properties by approximately 40% in the last two to three years.
"Better still, the new businesses choosing to locate here have been of different sizes and shapes, from small unique independent retailers, to national hospitality providers and business professionals.
"This has obviously led to an expanding offer for the general public. The way people use their High Streets is different now, so having social spaces such as cafes and seating areas where people can meet friends is critical."
She confirmed the need for retailers and businesses to keep devising new ideas.
And she added: "To help keep the Elgin offer 'fresh', we will be launching the Elgin Gift Card later this year. It can be redeemed at any of our members who sign up and, based on initial interest, we expect the numbers of participating businesses to be high.
"It [the card] lets the shopper pick where they want to spend their money – they could have a meal, buy a pair of shoes, have their hair done… the choice is the shopper's, but it keeps the money local and supports local businesses."
'Inverness is doing well but could do better'
Inverness has had to grapple with the same problems as other Scottish cities in adapting to the challenges faced by the public switching away from traditional shopping methods.
But officials in the Highland capital believe it has benefited, both from adopting a joined-up approach to such issues as parking and pedestrianisation, and the remarkable success of the recently-established NC500 route, which starts and finishes in Inverness.
However, Stewart Nicol, the chief executive of the Inverness Chamber of Commerce said yesterday that didn't mean there was any room for complacency.
Instead, his report card on developments in the community contained a few ticks, but also several "must do betters".
He said: "It's a challenging environment and we can't pretend otherwise. When we are talking about major out-of-town retail developments, which bring in millions of pounds and create hundreds of jobs, that has to be welcomed.
"But we also need a vibrant city centre and it's about getting the mix right, in terms of encouraging new businesses, while enhancing what we already have.
"The NC500 has been an incredible phenomenon – it has attracted people not only from the UK and Europe, but right across the world – and we haven't raised our game enough in that regard.
"But I think we are on the right track. Our hotels are at full capacity for most of the year, we have gained significant footfall from the Eastgate Centre, and Inverness Castle has proved very popular."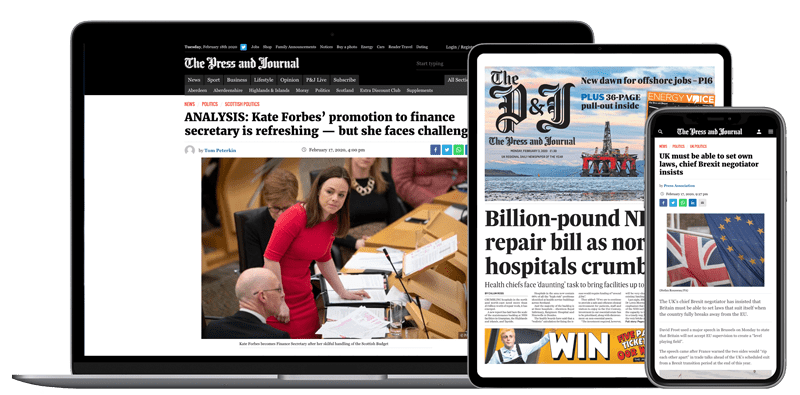 Help support quality local journalism … become a digital subscriber to The Press and Journal
For as little as £5.99 a month you can access all of our content, including Premium articles.
Subscribe