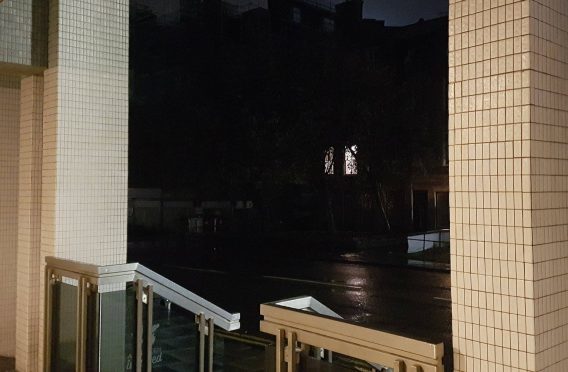 Aberdeen City Council has been criticised for leaving late-night revellers in the dark.
As work continues outside the Marischal Square project, Broad Street has now been left without street lighting.
The road, and neighbouring Upperkirkgate, were closed in March to allow for the street to be pedestrianised.
The work was due to be completed by June, to coincide with the opening of Marischal Square, but it is feared the £3.2million venture may now not be completed until next summer.
The lack of lighting has led to concerns being raised around public safety, particularly with thousands of new university students flocking to the city centre for freshers events.
It has also increased fears the works are having an impact on the surrounding businesses, with the road closure making access to them harder for customers.
SNP councillor Michael Hutchison said: "First of all, it is worrying that a major street in our city centre has been left without lighting.
"It poses questions about public safety and will cause more issues for hard-pressed local businesses.
"I've asked for this to be looked into and I hope it will be dealt with promptly.
"With it being on the council's doorstep, it sends out completely the wrong message about the city.
Shop boss calls for rates relief after Broad Street work extension
"When Labour first came to power they promised to focus on the basics rather what they called 'vanity projects' – five years later we have Broad Street plunged into darkness while work on Marischal Square overruns just yards away."
Labour councillor for George Street and Harbour, Sandra Macdonald, responded: "My constituents are absolutely fed up with people talking Aberdeen down.
"A lot of work is going on just now and Broad Street is an ongoing project.
"What's the reason for making these unhelpful comments?"
An Aberdeen City Council spokesperson said the street lighting issue was being treated as an emergency, and would be fixed "as soon as possible".