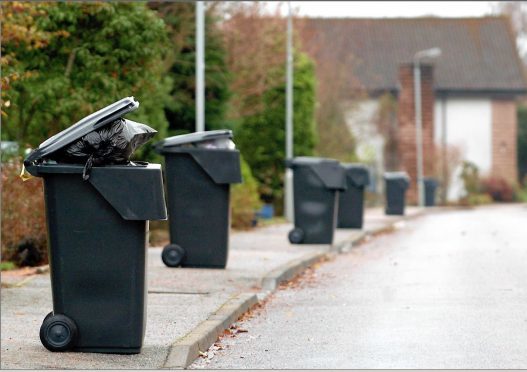 Council chiefs in Aberdeen are considering reducing bin collections across the city to every three weeks in a desperate attempt to save cash.
And in a further attempt to save £125million over the next five years, Aberdeen City Council could also axe garden waste collections altogether – or charge for it.
An outline business case on the council's vehicle fleet was scrutinised this week, with radical money-saving options put on the table.
Among them are moving bin pick-ups from fortnightly to three-weekly, stopping the collection of garden waste or charging for the service and introducing 10-hour shifts for refuse collectors.
Council mechanics may also be asked to carry out more commercial work, like MOT testing.
Despite the changes in Aberdeen, Aberdeenshire Council – which must make £24million savings in the next year – has said it has "no immediate plans" to shake up bin services.
A major restructure of the city council is under way, with the authority moving to a more corporate model ahead of ever decreasing funding settlements.
Unions fear jobs will be shed but the authority has insisted it is committed to not sacking staff from its 8,500 strong workforce.
Tommy Campbell, the regional representative for the Unite union which represents refuse collectors, said: "I doubt these changes would be very palatable to the workforce with talk of changed shift patterns and more technology.
"They should be investing in more staff in this service rather than less.
"Any service that means leaving the rubbish out on the streets for longer could be a significant health issue which would lead to more vermin. I hope these proposals don't become policy."
Locals also expressed their doubts about the idea, claiming their bins are already full at the end of the two-week cycle – even when they use their recycling bins.
The council moved to fortnightly collection in 2010, despite concerns it could lead to an increase in vermin.
In 2015, Fife Council began three-weekly collections – but north-east councils ruled it out.
Last night, the council's opposition leader, Stephen Flynn, acknowledged local residents' concerns and said the authority must "thoroughly analyse" the proposals and their impact before moving forward.
The SNP group leader said: "I think the key thing here is that the council thoroughly analyses any proposals brought forward as part of a business case.
"I understand that this change would be extremely challenging and that the people of Aberdeen would have great concerns about the build- up of waste that could result."
Liberal Democrat group leader Ian Yuill said his party would oppose any moves to three-weekly collections.
He said: "The Liberal Democrat position is that there should be fortnightly collections and we certainly won't support any move away from that."
Council co-leader Douglas Lumsden assured residents, and workers, that all options remain on the table.
He said: "We obviously have to look at every option to save the city money going forward.
"At this stage these are only ideas and every option has been included, there are ideas in there that I'm sure would get ruled out pretty quickly."