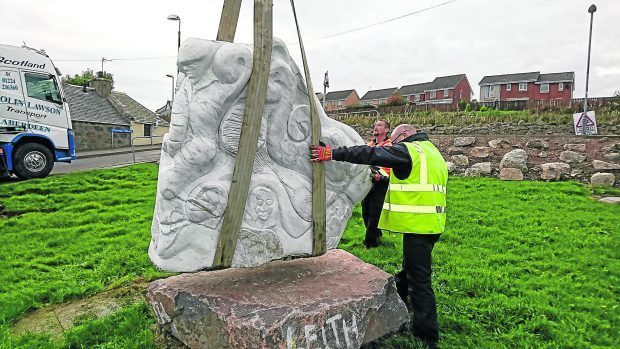 A sculpture commemorating Cove Bay's last traditional fishwife has been lowered into place, four years after efforts began to make it a reality.
Cove in Bloom first began fundraising in 2013 for the statue, a permanent reminder of the Aberdeen suburb's fishing heritage.
Isie Caie was often seen walking the cliffs between Cove and Torry carrying a heavy creel full of fish to sell at market.
It is said it would take two men just to lift the basket on to her back, before she began her daily trek atop the treacherous bluffs to the city centre to earn a living.
Last year, the group commissioned Brazilian sculptor Albertino Costa to carve a marble statue in the fishwife's honour.
It has now been lowered into place in Burnstane Terrace by Colin Lawson Transport.
It sits atop a granite plinth donated by the nearby Leiths Quarry.
Wendy Suttar, from Cove in Bloom, said: "Albertino has been working on it since July last year, initially one day a week, but later on two or three days as his work schedule changed.
"Throughout that time he has been talking to everyone who visited the harbour.
"Many of us helped him take the first layer off the stone with his little chipping hammers, preparing it for carving, and all the time he speaks to folk he is learning more about the fishing industry in Cove.
"A class from Charleston School also went down to the sculpture this summer as it was getting near to being finished, and helped polish it.
"It will be great to see their faces when they visit it once it is finished."
Isie Caie died in 1966 and was buried in Nigg Kirkyard.
Mrs Suttar added: "There are still a few residents who remember Isie, and they love to talk about earlier times, as we all do.
"I'm over the moon to be able to see the sculpture in place, set in such a way that Isie is looking down towards the sea, and standing on the local granite. I was lost for words seeing it."
The sculpture is expected to be officially unveiled later this year.