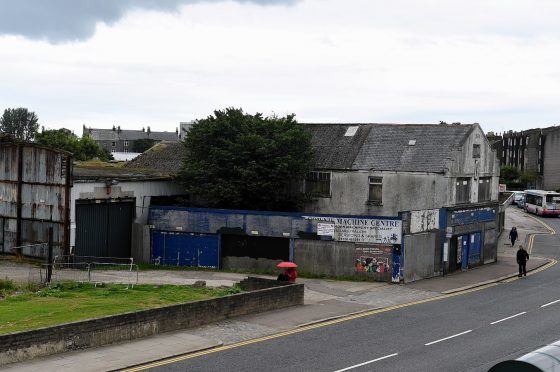 Work is due to start on a multimillion pound traffic busting scheme in Aberdeen next week.
Ground investigations for the £26.4million Berryden Corridor improvement scheme will get started on Monday, ahead of the large scale dualling works.
Diggers will be in the area, along with drilling equipment as another part of the design process along the route for the new road which stretches from the Skene Square roundabout to St Machar/Great Northern Road roundabout.
Pictures show first steps in tackling historic traffic problems in Aberdeen
In March, council bulldozers moved in to demolish on empty eyesore buildings on Powis Terrace which will form part of the route.
The former garage and properties at 78A and 86-90 were taken down as part of the scheme, which is scheduled to finish in 2020 and will also include extending or adding vehicle turning lanes at several junctions.
A new dual carriageway, which will link Skene Square, Caroline Place and Berryden Road between Maberly Street and Ashgrove Road are aimed to reduce congestion on the bottleneck.
Residents could be forced to sell homes to make way for multi-million pound traffic scheme in Aberdeen
Council roads and transport spokesman Ross Grant said: "It's good the ground investigations are starting for the £26.4million Berryden corridor improvement scheme as it shows that we're on another step of the way to building the road.
"The Berryden Corridor improvement scheme will benefit motorists, cyclists and pedestrians and will be a major upgrade to the roads network in the area and for the whole of the city.
"Along with improving our roads network to make it easier for residents and visitors to get around the city easier, the scheme will also further support wider network policies such as the City Centre Masterplan, and will also help with the delivery of other infrastructure routes."
Say goodbye to eyesore buildings in Aberdeen: Demolition on Berryden Corridor gets start date
The council has hailed the development as one of several major infrastructure projects worth a total of £560million– including the already-completed Diamond Bridge and A96 Park and Ride at Craibstone and Dyce as well as the under construction Aberdeen bypass.
SNP infrastructure spokesman Michael Hutchison said he felt it could reduce congestion in the long run.
He said: ""This is a plan that we back and which we believe will make a huge difference to commuters in Aberdeen.
"I'm looking forward to it being completed and hopefully taking some of the congestion away from Powis Terrace and Bedford Road."