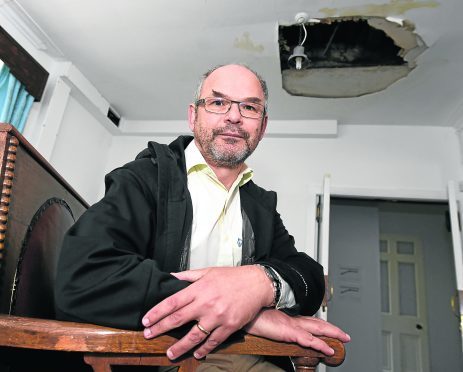 The UK's most northerly synagogue has been saved from closure after raising more than £10,000.
In September a faulty washing machine flooded the Aberdeen Synagogue and Jewish Community Centre, ripping a hole in its ceiling.
As a result, the place of worship was forced to close its doors for the first time in 72 years.
A fundraising campaign was launched to pay for the repairs, appealing for donations from people in the north-east and synagogues across the world.
Mark Taylor, the synagogue's president, said: "It has been quite had work but we've had a lot of support from many people in Aberdeen and the Jewish community in the UK and overseas, including Canada, Israel and the US.
"My opinion was that we were going to really struggling to raise the funds, and I was a bit surprised that we managed to do it so quickly, which was really nice.
"It took just seven weeks, which is pretty good going."
A range of fundraising efforts were also held in order to help raise the cash, including by a 70-year-old man in Glasgow who ran two half marathons for the cause.
The synagogue has received support in several other ways as well, with meeting places across the city being offered up.
Mr Taylor said: "It has been humbling and heart-warming.
"One of the members of the community converted their front room into a synagogue for us, with chairs borrowed from the mosque."
Currently the group is meeting in one of the Bon Accord Centre's conference rooms, which is being provided free of charge.
Construction work at the mosque started this week with builders taking down the ceiling.
It is estimated that the new ceiling can be fitted in two to four weeks, once the property has fully dried out.
The group is hoping to have the room redecorated in time for Christmas, with new flooring laid in the new year.
Mr Taylor added: "We should be back in either in January or by the start of February."