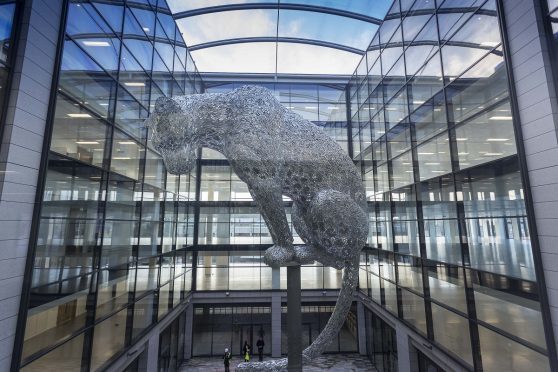 The creator of the world-renowned Kelpies unveiled his latest labour of love in Aberdeen yesterday – a giant steel leopard.
Andy Scott was commissioned to make the big cat – a tribute to the city's coat of arms – as the centrepiece of the new £107million Marischal Square retail and office development.
Mr Scott, a graduate of Glasgow School of Art, has made more than 80 sculptures across the world including the famous horses at Falkirk.
Yesterday, as he unveiled the leopard which is perched atop a 32ft column, he said he hoped it would bring a "sense of drama" to the development.Mr Scott said: "I've worked on this sculpture for over a year in the studio and it's been very demanding.
"There are literally thousands of steel fragments, all individually welded to create the form of the artwork. It now stands five metres (16ft) tall, weighs just over two tonnes, and will sit proudly atop a 10-metre (32ft) high steel column.
"I hope it brings a real presence and sense of drama to the atrium space of Marischal Square."
Developers Muse and Aviva Investors commissioned the centrepiece – named Poised – and said that they believed the work had the potential to have a "significant impact" on the city's tourism.
Council masterplan spokeswoman Marie Boulton said: "At the outset of the Marischal Square project, we identified that public art would play a vital role in attracting both business and visitors to the prestigious new development, so it's fantastic not only we have this art, but it's also an amazing sculpture by Andy Scott.
"His sculpture of a leopard is extremely impressive and is very appropriate for Aberdeen as leopards are a symbol of the city, featuring in our coat of arms after legend says they were bestowed as a gift by King James I for underwriting his expenses while he was held captive in England."
Marischal Square  includes two office buildings providing 173,500 sq ft of office space with secure parking, seven restaurants and cafe bars occupying the ground floor space, and a 126-room Marriott hotel.
The development has proved contentious with many in the city who have criticised the architecture and financial arrangement where the city council will have to pay the developer £5million a year and collect any rent paid.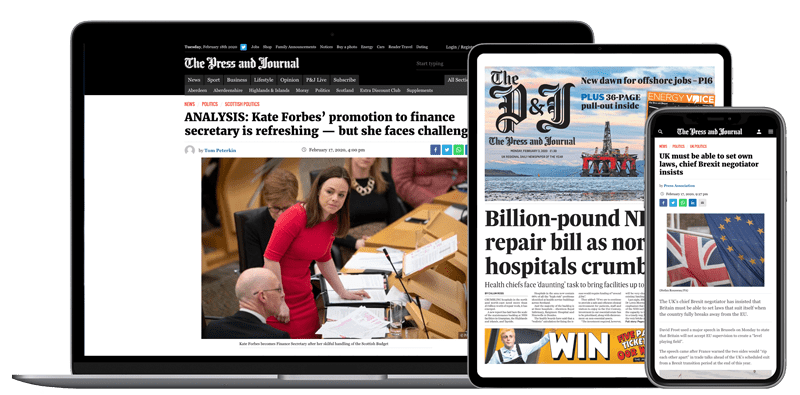 Help support quality local journalism … become a digital subscriber to The Press and Journal
For as little as £5.99 a month you can access all of our content, including Premium articles.
Subscribe