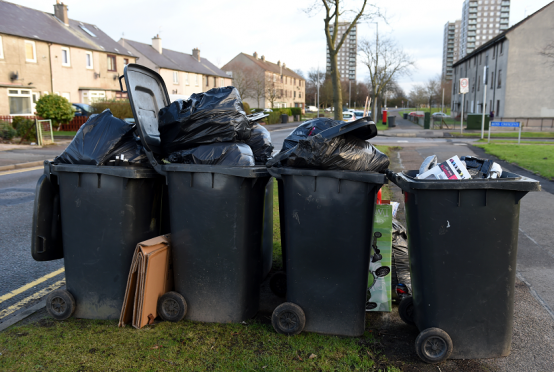 City council bosses are "borrowing" refuse workers from neighbouring Aberdeenshire to plug staff gaps during the roll-out of new bins.
Aberdeen City Council have splashed more than £21,000 on paying overtime to Aberdeenshire bin men and women because the city only has around 40 drivers out of their target of 55.
A new report to the city council's infrastructure committee shows that the new bins have proved a problem for many residents with nearly 7,000 complaining of missed pick-ups between February and September.
To compound the issue, the city authority has recently seen the departure of waste and recycling manager Peter Lawrence.
Councils across Scotland are increasing recycling rates ahead of tough landfill targets set by the Scottish government. Biodegradable waste will be banned from landfill sites from 2020.
Aberdeen is trying to meet the challenge with the new food waste, brown and black bin roll outs as well as ambitious multi-million pound schemes like the recently completed recycling plant and the incoming incinerator.
But with the council preparing for £125million of cuts over the next five years radical plans have been floated including reducing the pick-ups to every three weeks, axeing garden waste collections and introducing 10 hour shifts for refuse collectors.
North-east Unite union representative Tommy Campbell said the city service was already "stretched" and stressed that the council should not need to "borrow" workers from other authorities.
He said: "These failures clearly lie at the door of senior management at the council who we had warned would face this issue.
"This sends a strong signal that the council must recruit their own staff."
Liberal Democrat infrastructure spokesman Steve Delaney said: "Unfortunately the roll out itself was an unmitigated disaster with a high level of missed garden waste collections, assisted collections being missed, rural properties being missed out and a host of other issues.
"I was inundated with complaints during and indeed for some months following the roll out, as I'm sure all councillors were."
An Aberdeen City Council spokeswoman said: "As previously reported, we have had a shortage of resources over recent months in particular areas following the implementation of the new recycling and waste services and to assist with this we have worked with colleagues from Aberdeenshire Council to help mitigate the issue."
An Aberdeenshire council spokesman said: "We are providing both vehicles and staff and all costs associated with this are recovered from Aberdeen City."