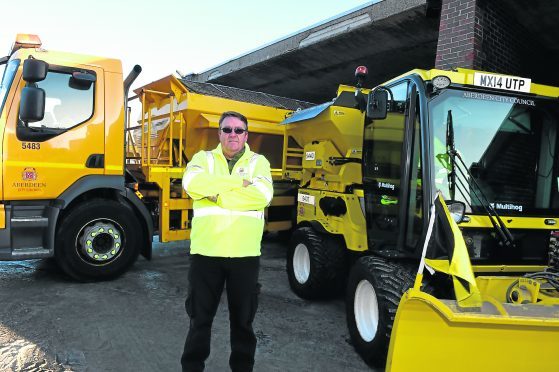 More than 11,000 tonnes of salt has been stockpiled as the city council prepares to keep roads clear for a severe winter.
The past two years have been relatively mild, meaning much of the previous stock has been left unused.
In 2013, only 5,600 tonnes of salt was needed, compared with almost 19,000 in 2012-13 and 8,000 in 2011-12.
This year, as part of the more than £1.7million winter roads budget, 90 staff, 38 vehicles and 11,726 tonnes of salt are on standby for the worst of the winter weather.
Early morning and standby gritting operations will launch from November 13 to March 19, although gritters have been out several times in the last couple of weeks.
Almost half of Aberdeen's roads are treated before 7.30am, with 560 miles of roads in the city, slightly more than the distance from Aberdeen to London.
Council transport spokesman Ross Grant said: "We hope it won't be a severe winter this year, but you never know in Scotland. Our staff and equipment are ready for winter and are as prepared as they can be.
"Our dedicated staff do their best under winter conditions, and often go above and beyond their duty to help people.
"Aberdeen City Council wants to keep roads open and residents safe and we also want to help people to help themselves.
"We can also provide one-tonne grit bags free for communities to use which are easier to use than grit bins.
"With almost half of the city's roads treated before 7.30am when most people are getting up and ready for their day ahead, it means they have been treated before folk set out for work or school in the morning."
A council spokeswoman added that there are 900 grit bins around the city "which get high usage, but are subject to theft".
She added: "They are difficult to service and require high labour and plant input, so a better alternative for communities is the free delivery of one-tonne grit bags.
"These are delivered free of charge prior to winter, bags are replaced as necessary, and are removed at the end of winter".
Aberdeenshire Council has yet to reveal their winter roads plan.