Thousands gathered across the north-east yesterday to pay their respects on Remembrance Sunday.
A short service was held at Aberdeen's War Memorial on Schoolhill, with the pavements packed with members of the public showing their support for the armed forces and the sacrifices which have been made throughout history.
Joining them were the Lord Provost of Aberdeen, Barney Crockett, city councillors and parliamentarians from both Holyrood and Westminster.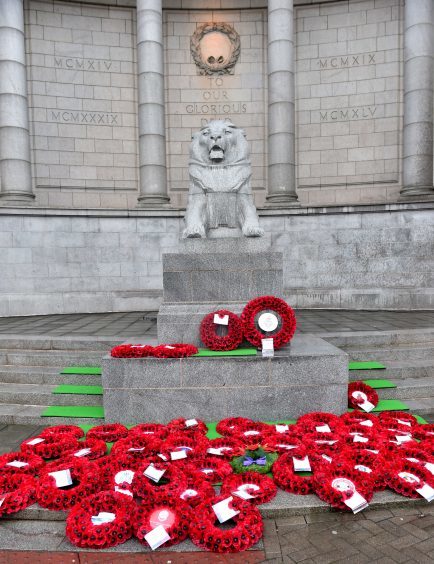 The street beside the memorial was lined with serving armed forces members, reserves and cadets, standing stoically in the face of blustery winds and freezing wintery showers.
Prayers were said and a hymn sung, accompanied by the Bon Accord Silver Band, before two minutes of silence were observed to remember those fallen in war.
The Lord Provost then led the laying of wreaths at the memorial.
He said: "The people of Aberdeen are strong supporters of our armed forces and we will join together as a community to remember the sacrifices made on our behalf.
"We remember all of those who have given their lives, and those who have been injured physically and mentally by conflict.
"We should never forget them."
Following the service, those in attendance were led by the Grampian Police Scotland Pipe Band for a church service at the Kirk of St Nicholas Uniting.
Stonehaven marked the sombre event with a service at the South Church, followed by a wreath-laying at the war memorial on top of Black Hill, which overlooks the town.
Those in attendance marched from Market Square to the church prior to the service and then afterwards paraded up the hill.
And in Banchory, the parade laid wreaths at the Gordon Highlander and Burgh memorials prior to a service at the town's west church.
Afterwards the group travelled along high street where the salute was taken by Vice Lord-Lieutenant of Kincardineshire, Andrew Orr, and the president of the Legion Scotland branch, before finishing up in Bellfield car park.
In Ellon, the traditional parade set off from Victoria Hall before wreaths were laid at the Square.
A service was then held in the parish church and subsequently the parade formed outside the building and walked to the Legion Scotland clubrooms on Station Road.
Inverurie also hosted a service at St Andrew's Kirk with the congregation then moving to the town's war memorial before the armistice parade marched past the town hall.