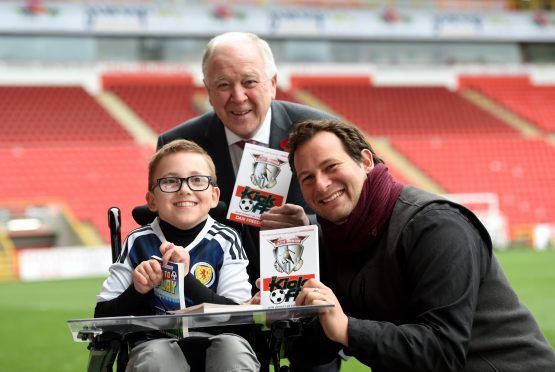 A former Aberdeen and Scotland boss has ensured a football daft youngster is on the same page as his favourite author.
Stonehaven lad Finlay Sangster, who suffers from cerebral palsy, has become passionate about reading after discovering Dan Freedman's Jamie Johnson series.
The books, which have been adapted for TV, follows the trials of a young boy trying to make his mark as a footballer.
Yesterday the Mill O'Forest Primary pupil got the chance to meet the author behind his favourite books thanks to the intervention of former Dons boss Craig Brown.
And the trio met in the ideal setting given their shared interest, Pittodrie Stadium.
Finlay's mother Gail Sangster said: "Finlay has a few issues with his eye muscles so scanning pages and keeping track of what he is reading can be incredibly hard and very tiring for him.
"He thoroughly enjoys reading but accessing books can also be a challenge, as he needs help to turn the pages and hold a book in a good position.
"The school have been incredibly supportive of Finlay from day one. He has been fully included in all aspects of school life."
An avid Rangers FC fan, the 12-year-old was given the first of the books as a present and quickly became a devotee.
When the author learned of the youngster's fandom he wrote a letter to Mr Brown – a non-executive director at the Dandies – who arranged for them to meet.
Mr Brown was aware of the books because his daughter, a teacher at a school in Ayrshire, uses them to encourage children who are struggling with reading.
He said: "I have been incredibly moved by Finlay's story and wanted to do something to help.
"Finlay is a passionate football fan and loves to read so I thought I could combine his pleasures by inviting him to Pittodrie Stadium so he could meet Dan and me. I hope this special event makes one boy who has overcome a great deal very happy."