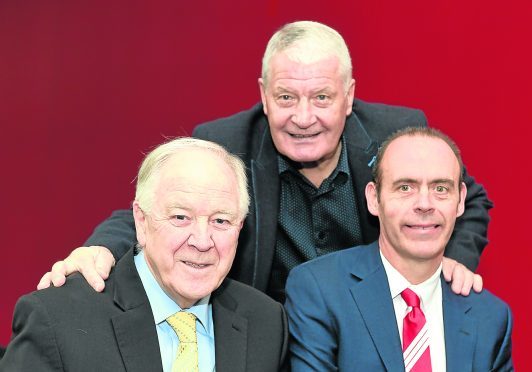 Two legends of Scottish football reunited yesterday to reminisce about the glory days in aid of a north-east charity.
Former Scotland boss, Craig Brown, and two-time Aberdeen assistant manager, Archie Knox, joined forces at the Park Inn in Aberdeen city centre to discuss their myriad memories of bygone triumphs and travails.
The event was attended by around 100 people and was organised to raise funds for North East Sensory Services, which supports blind and deaf people between Dundee and Elgin.
Speaking ahead of the event, Graham Findlay, the chief executive of the charity, declared he was delighted to have such high-profile names involved.
He said: "We try to do a football lunch every year. It started about ten years ago when we had Willie Miller and Neale Cooper which was our first big event.
"The Dons have provided great support to us and it's great to have Craig and Archie here and the turnout is fabulous."
Mr Brown, the last person to lead Scotland's men to the finals of a major competition, at the 1998 World Cup, remarked he was very happy to help the charity, but saddened at his compatriots' absence from the draw for the 2018 competition, which took place yesterday.
He added: "When we found out about the charity, Archie and I were only too happy to come and support them. The work they do is excellent.
"Aberdeen city has been very good to us and we often come to support charity events.
He added: "I was with the national team for 16 years, eight as assistant manager and eight as manager. During that time, we went to five tournaments.
"I'm heartbroken than Scotland are not in the draw for World Cup, but I'm always optimistic for next time."
Mr Knox said he was looking forward to answering questions about his halcyon period with the Dons from 1980 to 1983, during which time the Dons won the European Cup-Winners Cup.
He said: "It was a fantastic period for Aberdeen, there are people who were not born then who have heard about it from relatives who were there."