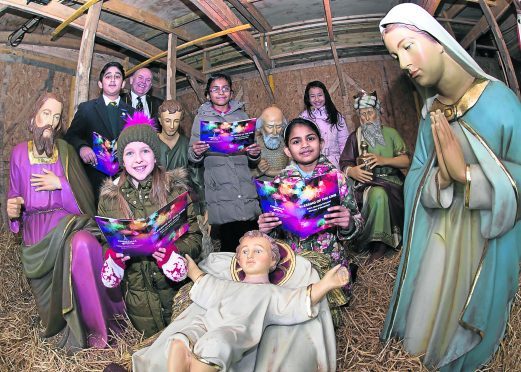 Hundreds of youngsters watched on yesterday as the true meaning of Christmas was celebrated.
Pupils from primary schools across Aberdeen joined church leaders and councillors for the unveiling of the city's nativity scene in the grounds of St Nicholas Kirk.
The Very Rev Emsley Nimmo blessed the scene, which comprises of a life-sized Italian-made Mary and Joseph, baby Jesus, three wise men and two shepherds.
For more Christmas news and competitions, visit www.besteverchristmas.co.uk
Pupils from Hanover Street Primary, Holy Family RC School, Robert Gordon's College Junion School, St Joseph's RC School and St Peter's RC School then sang carols.
Lord Provost Barney Crockett said: "The message of joy and hope that the nativity represents is something that everyone in the city can appreciate.  It's a busy time of year for many people, but it's important we take the time to think about the meaning of the Christmas story whilst we celebrate with our friends and family."
Rev Stephen Taylor, of St Nicholas Kirk and the chairman of Aberdeen Churches Together, said: "It's an important service as it's a way for the churches to participate together and to get the message of what Christmas is all about out to the public. It was especially good this year because the rain and the snow managed to hold off, something which I'm sure the children were happy about as well."
The scene, which is on display in a specially-constructed shed in the kirkyard – visible from Union Street – will be open daily until January 5.